The handbag: the gift every woman would love to receive!!!
Have you ever asked a woman what kind of gift she would like to receive for her birthday or for any other special occasion?
About 10% of  women interviewed will answer that they would like to receive jewelry, another 20% (the most romantic ones) would like to receive flowers or plants, but the remaining 70% will answer that the gift they long for most is a handbag. No matter whether it is large or small, classically styled or extremely fashionable and original, a handbag is always a handbag,  whatever its size or shape. To a woman it is as precious as a jewel and as romantic as a flower.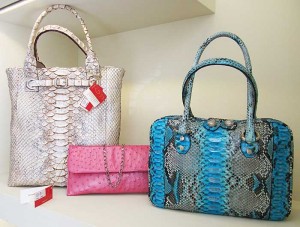 The bag is indispensable to a woman's look nowadays, just like shoes or dresses, given that a handbag holds the most intimate secrets of a woman, her personal effects, her beauty tools and everything she needs to look fresh and attractive throughout the day.
The handbag is for us women more than a simple fashion accessory: it is our most confident ally, our best friend, capable of providing us with the best of comfort and practicality in any situation, without detracting from that natural elegance which has always characterized our look.
Our bag represents our habits and our personality; it's a sort of identity card which reflects our being, our style of life.
Many girls start using a handbag instead of a school back pack when they are still attending high school, because they can personalize it with pendants and decorations and wear it with ease and style everywhere; obviously at school but also when they go out with friends or when they go traveling, using it as suitcase thanks to its spacious internal compartments.
Elegant women never go out without their handbag in hand or worn on the shoulder, even when they are just going out for a stroll with their partner or with their friends. Wearing their handbag is an entrenched and enjoyable habit, an essential part of them, a way to be completely at ease  among other people. Going out without a handbag is unthinkable for these women; they would feel naked, incomplete and unnatural without their bag.
Despite the passing of time, the changing of fashion trends and the development of new habits, the handbag continues to occupy an important place in a woman's heart and it will always play a prestigious role in completing our style, because it is simply part of us.
So, what gift could satisfy our wishes and secret longings better than our dream handbag, admired in that shop window for so long, going so perfectly with most of our wardrobe, so chic yet also so elegant and prestigious?
Receiving a handbag as a gift is always a doubly emotional experience for every woman: first because she is being given something that she really wants, a product that she will use with pride, making full use of all its external and internal pockets and compartments daily to carry her important personal things with her always, without any risk of leaving something essential at home; secondly because this accessory is given to her as a present by someone she loves, who, by buying her something as indispensable to her as a handbag, shows a lot of thought and care for her, as well as a great awareness of her tastes.
This is why we suggest to you all to consider the possibility of choosing a luxury handbag as a gift for your partner or for your best friend, because we are sure that she will appreciate the special quality of your present and, above all, the care you take in surprising her with a gift that she has always wanted, which demonstrates the deep love you feel for her, given that only a person who really loves someone, perfectly knows all the desires and tastes of their beloved and is prepared to satisfy them in every detail!!!!
Take a look at our Gleni Boutique and choose the perfect gift for your partner among the models currently available for immediate delivery.
Visit now at www.gleniboutique.com