The Kelly Bag – a Genuine Style Icon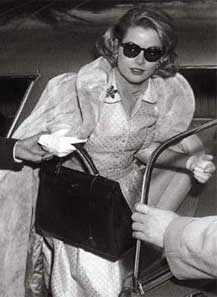 The Kelly bag is perhaps the most famous and long-lived of handbag designs ever, having attained an iconic status since the moment in 1956 when Academy Award-winning actress, Grace Kelly, less than one year married to Prince Rainier of Monaco, was featured on the cover of Life magazine with one of these stylish, structured Hermes bags, carried in such a way as to conceal her first pregnancy from the cameras. The bag immediately became a major hit, with those wishing to emulate the film star princess joining a six month waiting list to get one, and it was soon renamed the Kelly bag in her honour.
The Kelly bag has held its place as world's most desirable fashion accessory so long and appealed to so many generations of women, because it manages to combine all the essentials of a perfect handbag – functionality, elegant and practical design, comfortable shape – with an indefinable air of mystery and allure added by its signature tiny padlock and strap closure. It hints at intimate secrets, mysterious femininity and subtly underlines the handbag's role as the guardian of a woman's private inner life.
Every elegant woman needs at least one Kelly bag in her handbag wardrobe to bring out on occasions where classic chic and refinement is called for. The structured Kelly style may not have changed in fifty years but with the infinite variety of leather types, colors and hardware choices available it is still possible to find a unique bag to fit your personal tastes. The rumoured endless waiting list to purchase a genuine Hermes Kelly bag might be off-putting if patience is not among your virtues, but once you have developed a relationship with your nearest Hermes store you might well find that you get first news of any new arrivals and don't have to wait so long.
Of course the Kelly bag having been around for so long, its inimitable style has become part of the history of handbag making and entered our consciousness. When we think of elegant handbags it is often the Kelly bag that springs to mind. Just as the Chanel 2.55 chain bag inspired a whole new genre of shoulder bags, so the Kelly bag has created a separate genre of structured elegant handbags.
Many handbags designers have been inspired to work with this style of bag and have created their own versions of the Kelly that are tributes to its unique style and, though they have no pretensions to being exact replicas of the original design. As always look for excellent quality in craftsmanship and leather if you choose this option and avoid counterfeit bags at all costs – the difference being that a counterfeit bag will try to reproduce the original Hermes logos and pass itself off as the genuine article.
Whatever color and leather you choose for your Kelly bag, you will be joining an elite group of stylish women, film stars, society leaders, professionals and 'It' girls who are all passionate about their Kelly bags, so much so that it's hard to stop at just one: true collectors often admit to having six or seven Kelly bags in different leathers and colors. Start off with one and you are bound to get hooked on this perfectly elegant handbag, which has been at the height of fashion for more than fifty years and looks set for at least another fifty!