The new Gleni collection 2012
A refined and elegant style for an accessory that is always in vogue.
Summer is just around the corner and with it women's hearts dream of a new and fresh look, to enjoy the summer season full of fun in great splendor.
Often this inner desire for renewal is manifested by a complete change of hairstyle or make-up, or a wardrobe make-over, but for many women, it is often enough to buy a new bag to feel completely "new", ready to meet the fine weather, and all the exciting experiences that it brings, with verve and determination.
Inspired by this desire for renewal, we at Gleni decided to create a new collection of bags to satisfy every woman's need not just for luxury accessories but also comfort, hence a handbag that enhances her beauty, providing at the same time, all the convenience and practicality she needs through the day.
The new models of bag, produced with the invaluable help of our Italian artisans, with whom we have established a very strong professional and human relationship over the years, have been designed to indulge all our customers' tastes and desires, paying attention to every detail, optimizing even the smallest space, , and enhancing each piece with high quality finishes and with sophisticated and glamorous hardware.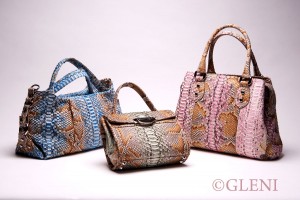 Part of our collection is devoted to summer and to the cool tones that characterize this special season; soft and delicate pastel tones like pink, emerald green, beige, aquamarine, combined with practical and spacious models of handbags, none the less elegant for all that, to wear during your everyday life, as well as at a special event or a gala evening.
Besides these pastel colors, you'll find combinations of much more vivid and bright tones, which, cleverly combined, perfectly reproduce the natural design of python itself.  This is the case of our "India" color line, where amber lies next to pink, ruby red, cobalt blue or green, for a very exciting final effect on the finished product, as it further highlights the alternation between large and smaller scales characterizing python.
Other models of bag have been produced in pastel colors such as cream, pink and orange-peach, embellished with metallic streaks that define the edges of each scale.
To make your summer even more glamorous and chic, some of our new bags combine two different colors of snakeskin: a bronze shade for the side sections of the item while the front panel areas, display an Arabic style, characterized by a matt beige background with touches of metallic gold, silver and bronze – a unique style for a woman who always keeps up with fashion trends.
While part of our new Gleni collection focuses on the trends and colors characterizing summer 2012, another part was designed for all those women who, when they buy a bag, do not focus so much on fashionable colors, but concentrate on the luxury and prestige of the item they are buying.
As you may recall, in our previous collections we have a special line, called Royal, dedicated to this kind of women and to their careful search for true Made in Italy luxury.
For this new collection, the existing Royal collection has been expanded with new and enchanting types of bag and accessories, improving them both in details and materials.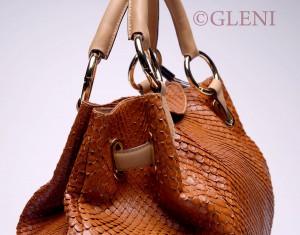 The new models are characterized by the use of exclusive and high prestige leathers, such as anaconda, alligator and ostrich. While alligator and ostrich were already being used by our artisans to manufacture our most exclusive products, anaconda skin is a brand new introduction to this collection, our first time working with this much prized exotic leather..
But what exactly is anaconda? What are its characteristics? What are the elements that distinguish it from python?
To this question, we have decided to devote a separate article that we will soon post in our blog, because we really want to help you totally understand the main qualities that characterize this very prestigious leather, informing you about all those elements that distinguish it from python. However, for the more curious of you, we can tell you that anaconda leather is a high-quality and refined material that, unlike classic python, has small, rounded and evenly disposed scales (it doesn't have python's contrast between smaller and larger scales) which, altogether, create a pleasing final effect, turning each item into a real jewel in terms of luxury and refinement.
Since this is a very prestigious leather, and consequently, also quite expensive, we decided to use anaconda with very classic and elegant colors like black, cognac (both in its shiny and matt versions), chestnut and grey with slight golden shades.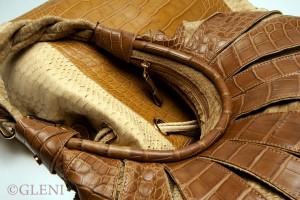 The use of anaconda leather, although important, is not the only big news from the new Gleni 2012 collection. As already mentioned, the Gleni staff has invested in the search for new materials to enhance the models already in production even more. We have, focused strongly on completely new and original combinations of very different exotic skins within a single article. The result? Handbags where anaconda has been masterfully combined with ostrich, or alligator joined with classic python, all in the delicate tones of mustard, cognac or brown. This experiment – in our opinion very successful although it is not for us to judge – was designed to give more dynamism to every single bag, creating light effects not only through the combination of distinctive colors, but with the simple juxtaposition of two different types of leather. Even using the same color range, python and anaconda will never take exactly the same shade as alligator and ostrich, so this results in a delicious chiaroscuro which makes each of our models, even the simplest and linear, a little special.
Of course, besides these items made with "mixed leathers", our team also proposes classic models produced exclusively in genuine alligator or ostrich: shoulder bags or purses with fine lines, most of them lined with nappa leather instead of fabric, just to assure a greater comfort and more prestigious refinement even inside.
Alligator, always impeccable in its quality and suppleness (as well as beautiful to the eye with its natural design created by the scales that characterize this leather), has been used for shoulder bags with delicate and graceful lines, enlivened by bright colors such as scarlet  or whisky and further embellished with decorative buckles with rhinestones, or gold hardware, designed to enhance this already elegant accessory even further. Classic black is always a winner for crocodile too, incredibly glamorous especially in its matt finish.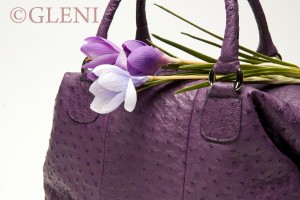 As for ostrich, the new Gleni 2012 collection presents a great variety of handbag models available in a wide range of colors, from cognac to bottle green, purple and terracotta, not forgetting fresher summer shades such as sky blue. Besides these more classic colors, we also propose two special tonalities, directly chosen by our staff: a golden tone with metal effect (a pure burst of refinement and luxury, especially when paired with golden hardware) and champagne (lighter than gold but equally charming and trendy, and above all, easy to match with everything).
However, on the ostrich side too Gleni has a nice surprise for you, proposing this same leather with a satin effect: this is a very special leather that we are sure, will immediately win your heart, as it did ours as soon as we set eyes on it.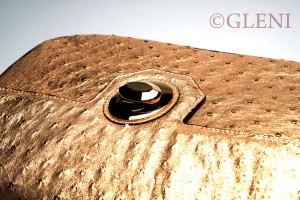 This ostrich, in fact, undergoes a special process where the leather is given a satin finish, so that if it were not for the follicles that characterize this leather, we might almost think that our bags were made of satin fabric rather than genuine ostrich. This is obviously just a visual effect, since, as soon as you touch it you'll immediately recognize the high-quality genuineness of the leather.
To enhance the effect even more, we applied these finishes to big bags. However we also recommend the choice of this leather for the creation of delightful clutch bags to match a cocktail dress or an elegant evening outfit; or, why not even your wedding gown, given that the current variant of this ostrich is available in Diabolik Grey (a very dark gray with micro glitters that make the leather very bright and chic) and in the Ivory variation, with light golden tones that positively sparkle.
Through this article we have presented our new Gleni 2012 collection in as much detail as possible, trying to convey  all the excitement and expectations that have animated our work in the last few months, though they were not without some strenuous and difficult moments. We hope that the same satisfaction and the same feeling of admiration also appears in your eyes when you see our new products in python, ostrich, alligator and anaconda from this new collection.
To find out, all you have to do is visit our Gleni Boutique right now!
Enjoy the show!