The Women's fashion shows for Fall/Winter 2013-14 are here, with New York the first stop
With the Haute Couture now behind us, we start anew with the great debut of the women's fashion collections for Fall/Winter 2013-14: it's time for the long awaited Fashion month, with New York, as usual, starting the ball rolling, before moving on to Europe.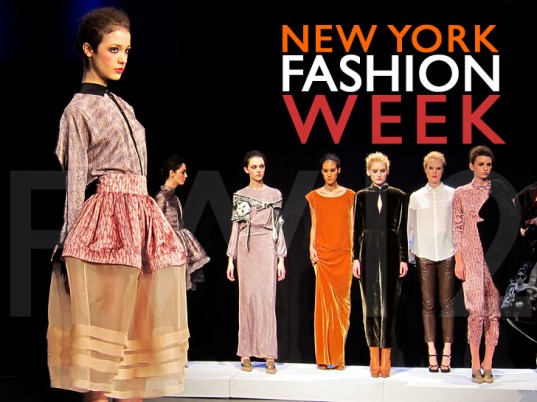 Despite the chill and the snow, New York's streets were overflowing with models, buyers and fashion editors alike, from February 6th to 14th 2013, all eager to catch the most important details of this Fashion Week, while the Lincoln Center, the official setting for the show, buzzed with more than 90 designers presenting their Fall 2013 collections.
New York fashion week promotes America's fashion talent to the world, from big name designers to new and young talents, and, with official runways, after parties and off-schedule events scattered across the city, there was so much fun to be had for everyone, not only for professionals of the fashion industry.
Creativity is the main diktat that has always distinguished New York fashion week from its European colleagues, and certainly this year there was plenty of it.
Two designers, quite different in their approach to modern dress, exemplify that creative priority: Derek Lam and Ralph Rucci.
Derek Lam, with his fresh take on sailor pants, in black wool with a navy satin T-shirt, made it clear that sportswear is not a social statement for him, it's the only world he knows.
While Zac Posen stepped away from fancy ball gowns, in favor of leaner styles and draped chiffon skirts with blazers or sweaters, adding an old-fashioned twist to his view, Ralph Rucci, by contrast, was full of surprises. The clothes looked as sophisticated as always, but the designs had an added sense of serendipity. A coat in crinkled black vinyl looked tough and chic, followed by a trio of candy-colored mink jackets, proof that Mr. Rucci has lightened up.
But let's look in more detail at what the other designers from the Big Apple proposed.
Recently nominated creative director of Balenciaga, Alexander Wang,  much appreciated for the urban-chic style that has always characterized his label, presented a more mature collection, feeling urged to give his imagination full rein. Inspiration taken from the Balkans resulted in a mixture of furs and coarsely knitted wool, with which he designed dresses, coats and trousers, and in addition the designs became more complex, elongating the silhouette with a dropped waist cut.
The look also includes rich tops completely open over the shoulders and two accessories, which are due to become the best-seller of the forthcoming winter season: a bag with a triple division, similar to a messenger bag but smaller in size, to be held in the hand, and high-heel shoes with a pointed and glossy toe, which appear to be made with folded woolen socks.
The Seventies have always been a period that Marc Jacobs revisits from time to time: for this collection Marc Jacobs presented a more grown-up woman in her polo-neck fitted dresses, or a working girl in pant suits, which introduce a cropped midi-trouser length.
The Marc Jacobs girl also comes fully accessorised with box-shaped and round-case bags that hark back to yesteryear luggage and cosmetic cases. She is also mischievous  in slinky navy and red satin dresses that are either dangerously short or a demure knee-length.
"It's not for everybody" designer Custo Dalmau said before the Custo Barcelona show. Indeed it's not. An extraordinary mishmash of fabrics, colors, materials and prints for a collection that many would consider the ultimate vogue. Entitled "Beauty and the Beast", the show featured so many different concepts, including tiny dresses with pronounced shoulders in a variety of sparkly fabrics and knits. On the other hand, it's all rock'n'roll at the Diane Von Furstenberg parade, where the great designer continued to focus on life as a party, while her brown suede wrap dress looks as good now as it did 41 years ago, when she first started making them: it really is a timeless creation.
Tommy Hilfiger girls choose a glen plaid for their dresses, playing with a typical menswear theme of short, fitting coats worn over double-breasted jackets, mini skirts and long woolen socks. In addition to this, the collection presented lots of jackets with thick gold zips or enriched with fur trims.
Already celebrating the fifth anniversary of her business, Victoria Beckham's brand is establishing itself as a name to keep in mind. Coats are the stars of the Victoria Beckham fashion show, introducing a new masculine element, together with a particular feeling for color – not just indigo but also sunny yellow.
Donna Karan too came up with a great collection that went back to her first success, the black bodysuit-based wardrobe that is Karan's answer to the fashion excesses of the day. Capes are much in vogue for next Fall/Winter season and Donna Karan did all kinds: asymmetrical and sweeping in jersey, built into a jacket in double-face neoprene, floor-length for the evening. Double-breasted coats buttoned to the collar came with pronounced rounded shoulders while pleated pants were full through the thigh. Wrap skirts flashed a hint of thigh just as a reminder that she did them first and then built an empire with them.
Although not physically present at the Oscar de la Renta show, John Galliano's presence could be certainly felt in the collection. The fashion world has been curious ever since Mr. De la Renta invited John Galliano – after his dismissal from the house of Dior – to collaborate with him .
Many of the opening suits bore a strong resemblance to those Mr. Galliano once created for Dior, with the models wearing wool felt cloche hats and jackets bound by thin leather belts that were knotted at the waist rather than buckled.
Oscar de la Renta's signature was equally on view with the remarkable lacework, polished and undoubtedly expensive day suits and a series of stellar gowns based on tuxedos.
You often see unusual sights while walking the streets of New York, and the USA in general: elegant women rushing in their city-chic clothes, an urban sport style but with more glamour. With their athletic movements, they show off identifying colours, Klein blue and taxi-cab yellow, , orange and metallic flashes. These are strong-willed women, self-aware, who display an apparent indifference that almost seems haughty.
These are the kind of women Michael Kors has pictured for the fall-winter 2013-2014 collection, completely grounded in Kors idea of fashion: glamour and sport.
The collection is made of natural textiles modified by technology to create dresses and coats with stiff lines that look detached from the body shapes. For a more contemporary image, he goes for black fur hoods on parkas. Many of the tailored pieces seem built  for speed with rounded shoulders and aerodynamic double-face construction, with black patent trim and taped seams.
This was just an appetizer of what the great names of the world's fashion industry have in mind for next Fall/Winter 2013-14….but it's only the beginning, as we are all ready to fly to London for many other exciting fashion surprises. So, stay tuned!