Trendy Italian Handbags: which is the Style of the Year?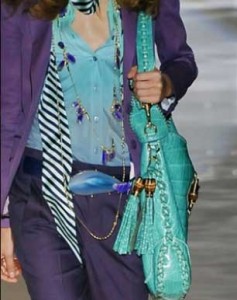 Designer Handbag Style.
Milan fashion week ended about two months ago but its echo still resounds in the world of high fashion and elegance. This week of fashion shows is very important not only here in Italy but all around the world, dictating the essential elements of next year's fashion trends regarding colors and accessories.
Here we have put together a guide to analyze in detail the new trends proposed by the Italian fashion houses as regards handbags, handbag style and accessories, to help give you a better idea of what is 'in' and what is out next spring-summer 2009.
***********
VERSACE sees his woman as a celestial and very refined creature and sends her down the catwalk wearing black and white dresses, sometimes accessorized with metallic colors like silver and gold to give her look a touch of glamour and brightness. Bags are wide, very comfortable and perhaps in light colors like beige or white for daytime wear. On the other hand, Versace proposes colors like black, metallic gold and violet for his elegant evening dresses, created to enhance the natural refinement of the woman and perfectly matched with handbags of the same color.
*************
FENDI: remains faithful to subtle colors like light grey, black (above all for the evening line)and light pink, setting off his creations with very elegant white or black handbags with two handles. He shows these bags however, in a very unusual way on the catwalk: they are trendy and stylish only if they are left open and if you carry them by just one of the handles, leaving the other side completely open. This look certainly sounds rather impractical and risky, as it makes it very easy for someone to steal your wallet or keys without any difficulty….and you'd be right to think it strange! But, by leaving your bag open, you make its lining more visible to everybody, so they can admire the perfect internal finishing of your item, the practicality of its inside and the attention to detail. Yes, this is living dangerously, but where is the fun without a few risks in life! Most of these bags are made of genuine python skin, a symbol of elegance and quality as, for Fendi too, a woman needs to express her beauty and refinement not only through her physical looks but, above all, through her clothes and accessories, and a bag too, worn in a very particular way, can be incredibly fashionable!
***********
DOLCE & GABBANA prefer dressing their models in light grey, black and white, though their evening dresses are colorful and dynamic, embellished with crystals and shining pearls, presenting their woman as a luminous, sparkling jewel. Colors used are TURQUOISE and BRIGHT RED and these elegant clothes are matched with small or medium sized handbags, in a dynamic and comfortable style, despite their moderate dimensions.
***********
LA PERLA: this collection is an explosion of strong colors like electric blue, violet, orchid, and emerald green mixed with lighter shades like white or beige. Bags, according to LA PERLA stylists, should be wide and very practical because a woman needs her comforts, and the fashion world should offer her the best, without expecting her to sacrifice an iota of her elegance and style. These bags are mostly shown in Cognac , a neutral shade that goes perfectly with every color and style.
***********
GUCCI too emphasizes a comfortable accessory to make a woman's life easier and more comfortable, and its designers propose the classic wide strap bag, worn on the shoulder to be fashionable and trendy but practical too as this allows you to have both your hands absolutely free. Accessories are made in strong colors like violet, red and black or with softer shades like white, according to the style and intensity of color of the outfit that the accessory is worn with.
***********
MISSONI proposes a style of handbag which focuses more on its comfort and high quality than on elegance, as its woman is always out and about and wants to have everything she needs by her side. Missoni bags are for this reason very large, with many internal and external pockets to keep everything in order and they are provided with a fixed strap, so you can wear them on the shoulder without any problem. However, a refined classic evening dress needs a very luxurious accessory to exalt a woman's refinement and her form. Missoni complements the luxury evening look with a classic refined clutch clasped in the hand, perhaps embellished with some gold buckles or made in a particular contrasting color such as acid green, gold, silver or antique pink. Very fashionable for this house of fashion are lamè colors which add a further touch of glamour to complete a woman's style.
***********
ARMANI house of fashion too, focuses its spring – summer collection 2009 on very light shades like beige, grey and light blue. Its creations are accompanied by very elegant accessories: trendy large python bags with a strap or with comfortable handles, or small clutches with very prestigious finishing and chic colors, sometimes enriched by small brass chain straps, which give a very refined touch of glamour, even though the style is very classic and restrained.
**********
According to our brief analysis, we can certainly deduce that two important elements have been re-discovered and proposed by our Italian fashion houses at Milan fashion week, two very important points which are determining the development of new fashion trends for 2009:
The re-birth of the classic wide tote bag, which is elegant but, above all very practical, with many pockets and compartments, which can certainly guarantee ease and absolute comfort to the woman;

The importance given to the quality of the materials used in making accessories; bags need to be comfortable and practical but should also be made with high quality leather such as genuine python leather, the absolute symbol of refinement, long lasting and undisputed quality.
No matter whether you are a business woman or a housewife: you need to be enfolded in the comfort of a genuine leather accessory which can offer you only the best in terms of quality, elegance and practicality.