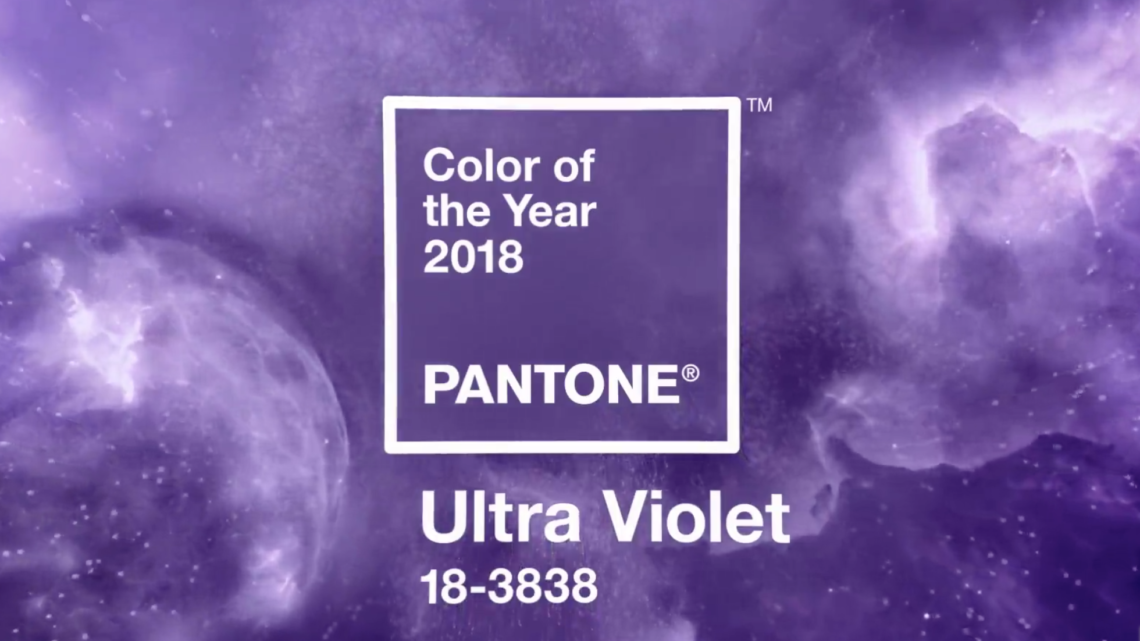 Violet returns: in vogue a new charismatic shade
Last time we saw this color, it was 2008 and I was still in high school. I remember all those school boys and girls freaking out, wearing it everywhere: pants, t-shirts, blouses, even accessories. In a couple of years, however, violet was completely forgotten. 
Now, ten years later, violet is on the rise again with a new charismatic shade: Ulta Violet.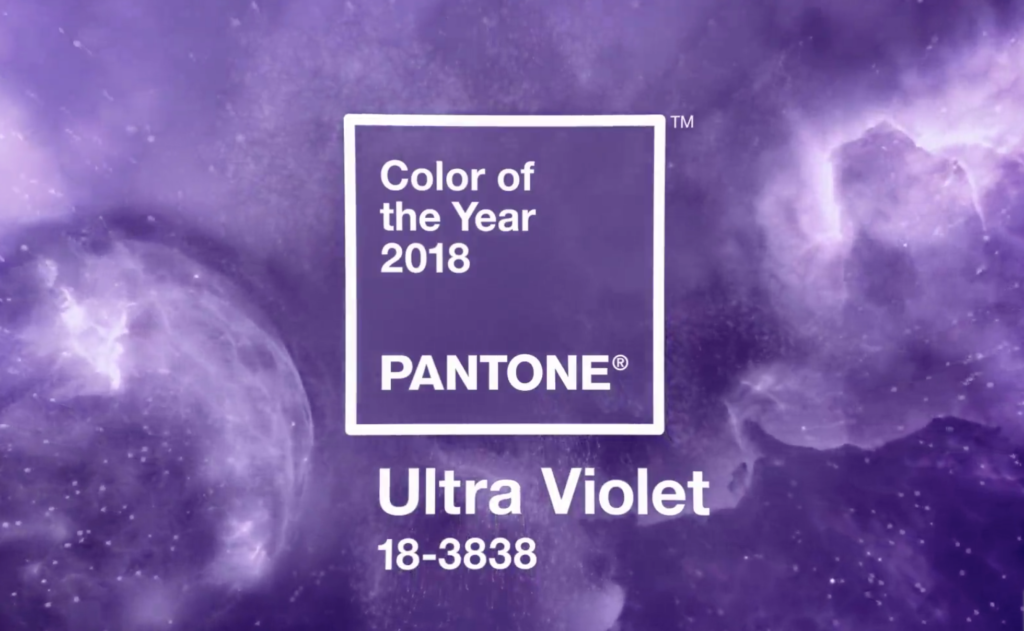 At the beginning of the year Pantone Color Institute proclaimed Ultra Violet the color of the year describing it as dramatically provocative and thoughtful shade, that evokes "originality, ingenuity and visionary thinking that points toward the future".
This unique tonality is, in fact, very different from the shades we saw recently: the blue-based Ultra Violet seems to be coming from another world made of creativity, extraordinary creatures, myths and gods. 
This color of the year is also a lot bolder than colours that characterised years past: say goodbye to Serenity, Rose Quartz and Greenery. It's time to challenge yourself and wear something out of the box. "Ultra Violet is made to light our way to what is yet to come"! Wow! Beautiful, isn't it?
Even though it's still difficult to find that exact shade of violet in the fashion world, some brands has already pledged themselves to the trend.
For example, Gucci, Miu Miu, Prada didn't waste time and introduced bags in this particular color. Many others did the same: Michael Kors, Lancel, Furla, Bulgari realized their versione of the Ultra Violet shade accessory.
We think that behind this color there is a really brilliant idea: we have always supported inventiveness and imagination and being able to finally see fashion going off the rails and start experimenting again with boldness is great. This is an unconventional color and for many decades it symbolised artistic brilliance and expression of individuality. It was, in fact, a must for icons as David Bowie, Prince and Jimi Hendrix. 
GLENI's motto is "the luxury of being different by being simply yourself" and Ultra Violet really ask us  to be who we really are, to forget our comfort zone and search for our true-selves. Who are you? Who are you going to be? What mark will you leave on this world?
Even in our little exotic world, we struggled to find crazy colors and patterns. Everything was sober and had just a slight touch of color in it. Being all elegant and minimal was good for some time, but in the long run it was all too pale for our liking. 
Finally, in the last year's Linea Pelle Fair, we had the chance to see exuberance again: bold violets and golds, turquoises and deep blues were in vogue again. We didn't waste our time!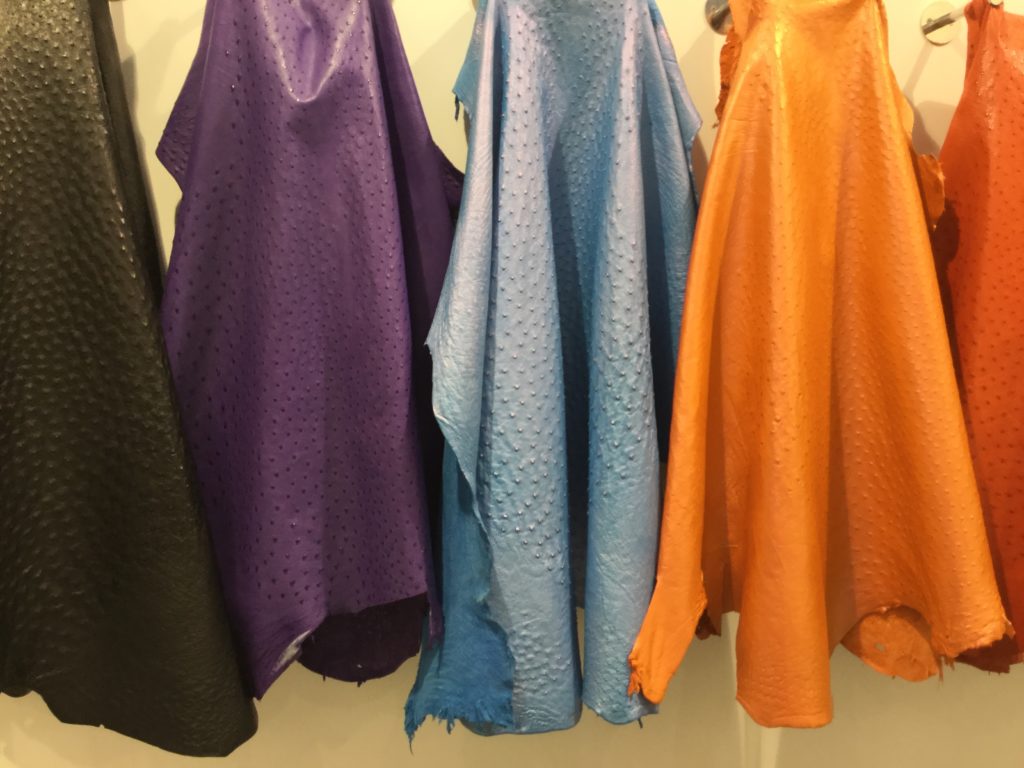 But as you may already know, not all our colourful creations are online yet. We're still working on them, improving combinations of shape, colors and different leathers. Stay tuned!
Many of you, however, might find the idea of wearing such strong colors a little frightening: don't panic! Don't force yourself: if Ultra Violet is not the right color for you, maybe you can try with something softer before going the bold way.
For example, if you love Lavender and French movies, you could find your new buddy in our Lolita mini bag. This little treasure chest is made of genuine demi-mat python leather with details in genuine ostrich leather. Lolita belongs to our "Ensemble" collection.
Refined as only a Summer dinner in Provence could be. Wear it with your best Summer dress for a Brigitte Bardot look, or with a pair of jeans, a white t-shirt or blouse and flats sandals for that modern yet classy look say to the world "I'm a modern woman, but I love classic pieces".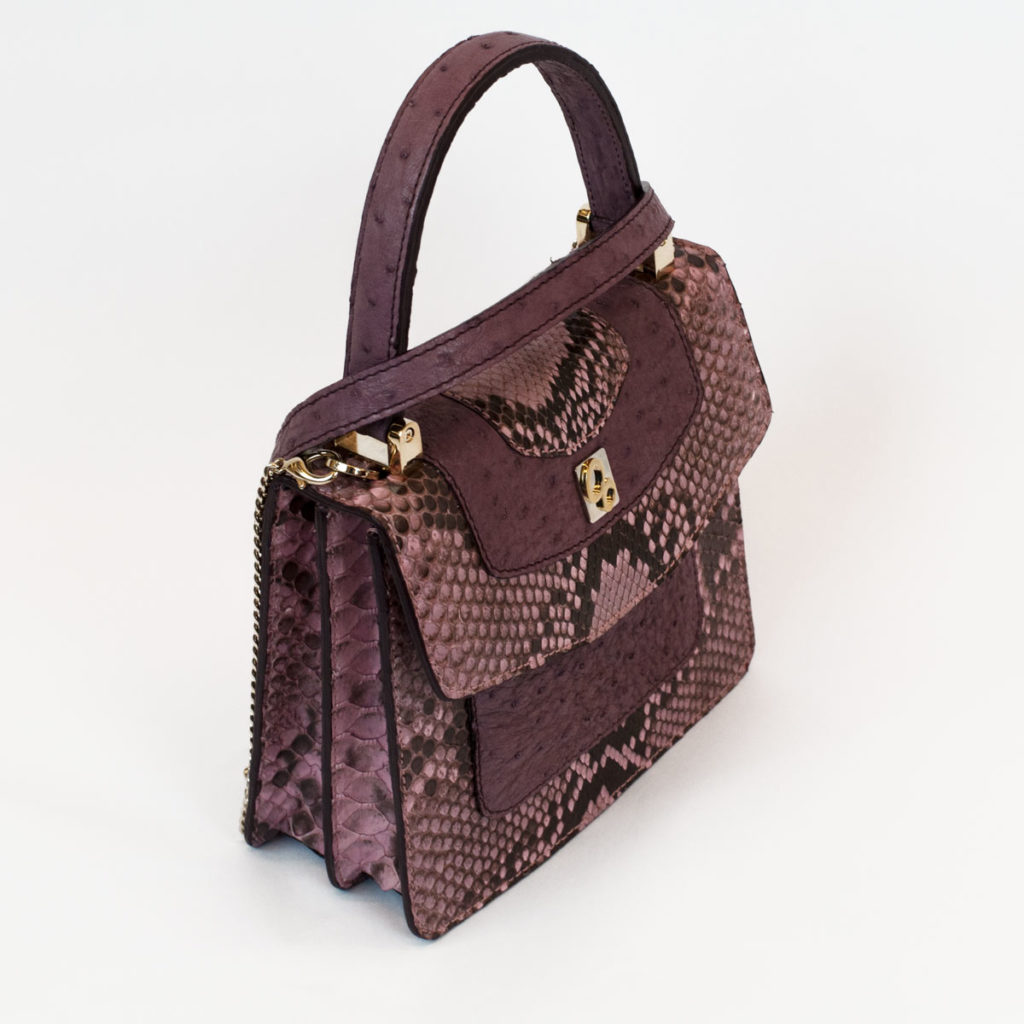 If you're ready for something stronger, probably you should take a look at our wide bag in genuine back-cut python leather. It's a beautiful combination of violet and brown shades, emphasised by the finishing of the leather: shiny in the middle (where the scale is large) and nubuck at the sides. What a softie! The best part of this bag? The discount!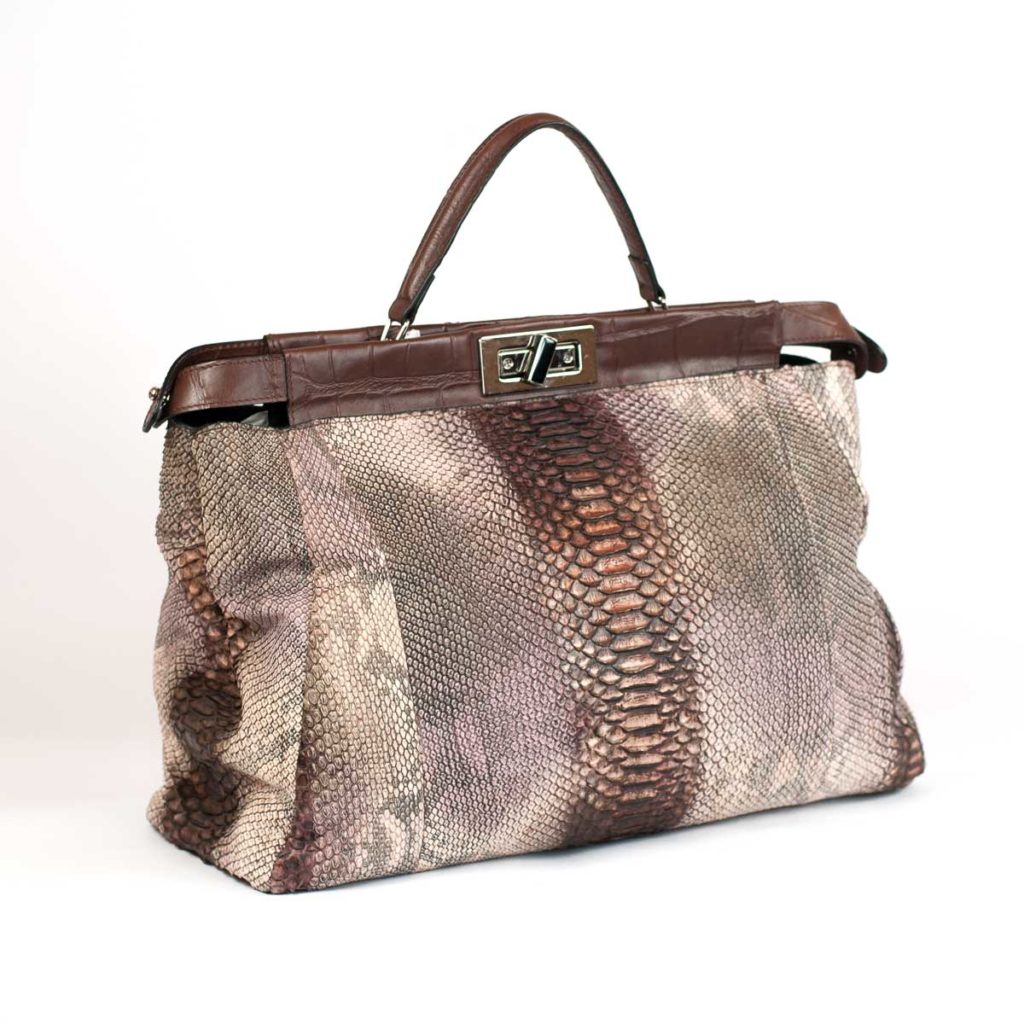 You're a fashionista and you can't miss any new trend? Then you're ready for our Ultra Violet bag. Made of genuine Alligator leather, this bag is anything but ordinary!
It's small, but charismatic and full of personality. It will turn your outfit upside down in the blink of an eye.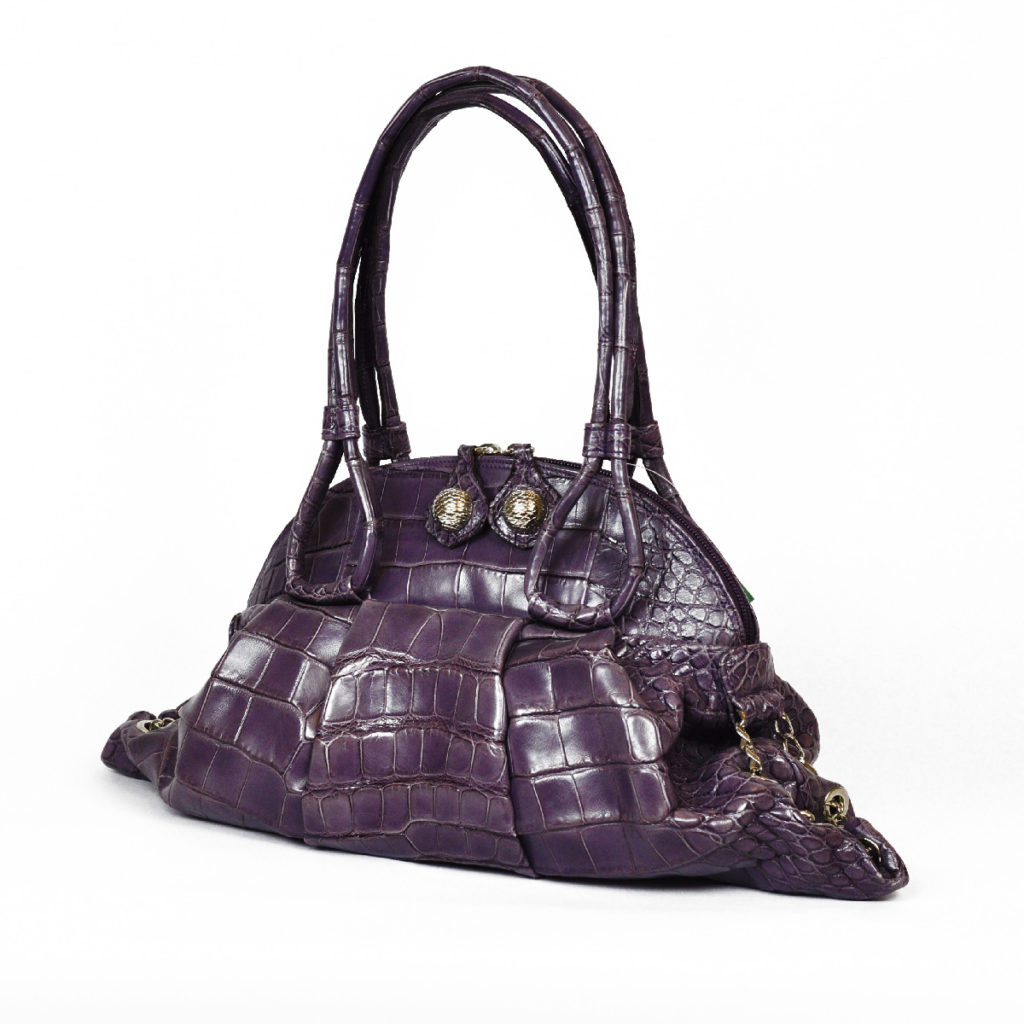 If you're more "the small accessory type" then you should definitely have this belt: made of genuine alligator leather, it's classic enough to wear it on everything. Actually, we like it that much that we put both in men and women accessories category.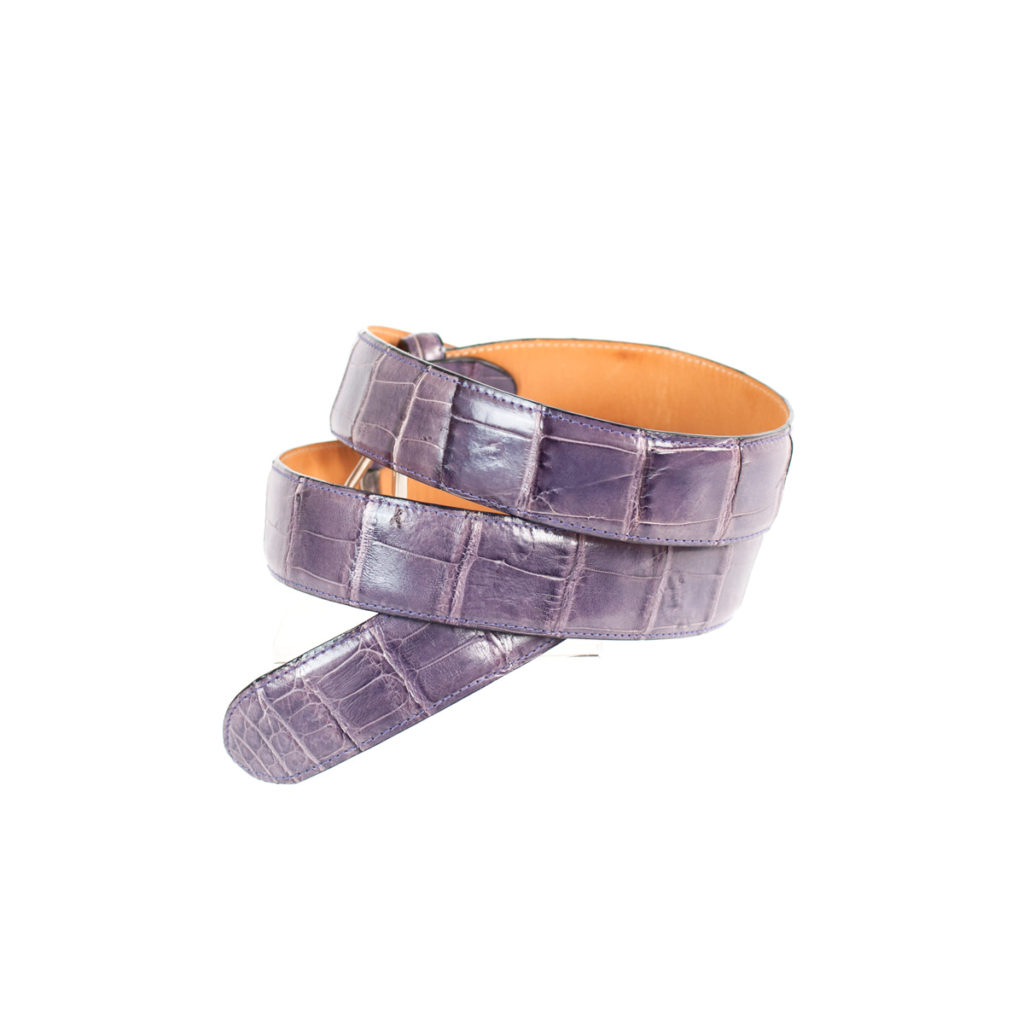 Also, If you prefer something more fancy, you should look at that little jewel made of genuine python leather: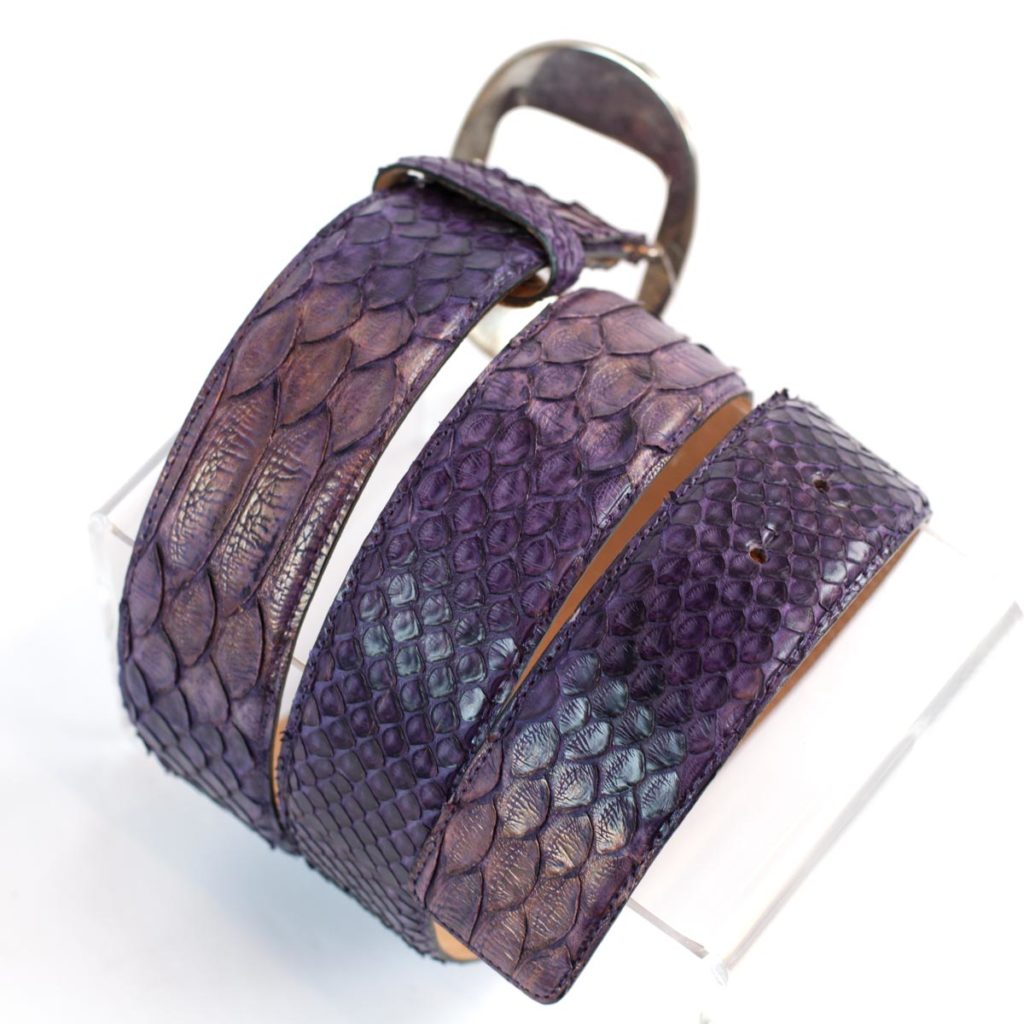 You should not forget that violet is also associated with mystical and spiritual world: for example, it's the color of the Seventh Chakra – the Crown.
In 2018, it's really time to open up our minds, reflect and find ourselves again: be unconventional and don't be afraid to show who you really are and take the luxury of being different, by being yourself!
Do you like the color of the year 2018? Strong and bold colors are your favourite?
Share your opinion with us and comment below! Don't be afraid to share your ideas  🙂
About The Author
26 years old, born in Ekaterinburg (Russia) living in Italy since 2000. I speak fluently 3 languages: Russian, Italian and English. Sometimes I try French too. I can't live without espresso coffee. I love cats, tea and books. Confident people with their own style and personality inspire me. Sometimes I wanna be a mermaid, other times a gardener. Admin and author on this blog, I write about Gleni's products, style and everything's fashion (or not).