What do you think of a luxury handbag as wedding gift for your bride???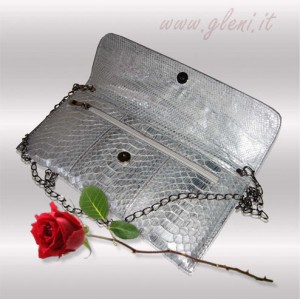 Spring still seems a long way off of cause of bad weather but it is actually already arrived. It has officially entered the calender this last saturday, bringing all its positivity and fresh energy. There is the rebirth of Nature, flowers bloom in the gardens and the air smells of purity and harmony. It is probably this joyful atmosphere (more vivid and accentuated in summer) that every year makes many lovers, especially here in Italy, choose this season for the date of their wedding. As the earth celebrates its complete rebirth in spring, so lovers get married in spring to start a new life together, hoping to live it in the best possible way.
As you know, some days before the wedding, it is customary for the man to give a special gift to his future wife as a token of his love and of his desire to share the rest of his life with her. There are some men who decide to buy their partners a precious jewel on this special occasion, perhaps a ring or a bracelet of shining diamonds, without regard for the price, because the most important thing for them is giving their lovers an exclusive gift, something which can last forever, an unforgettable token of their love.
However, it very often happens that women don't wear jewelry, perhaps because they are allergic or simply because they don't like wearing jewelry on a daily basis, except for some special event, to be worn with formal dress. So, a very precious bracelet or a shining expensive ring, can very often remain unworn for years, locked away unseen in a safe.
So, dear men, if the woman you are going to marry is not a lover of jewels, but, rather is a practical, dynamic and very trendy woman,, don't spend your money on something extremely precious which she'll hardly ever wear; focus your attention on something equally exclusive and precious but less demanding to wear, such as a luxury bag.  We are sure that, giving her a gorgeous handbag made of genuine exotic leather, you will definitely achieve the hoped for effect because she will really appreciate your "original idea" and above all, she will realize how deeply you love her and know her tastes.
It is said that a good marriage depends on the capacity to understand each other and to understand and respect the wishes of your partner, even if sometimes they are not the same as your wishes. Buying her the handbag she most desires, even if it doesn't reflect the classic and traditional wedding gift, is a noble deed of love.
You could also surprise her, by buying her a handbag she could wear especially for the wedding day. It could be very original and, in our opinion, also very romantic. Imagine your bride on the day of your marriage, entering the church or the ceremony room at the registry office, wrapped in her gorgeous white wedding dress and carrying your superb gift in her hand, instead of the classic bouquet of flowers. All the guests at your wedding, would be completely amazed and you will see a wonderful look of joy and love shining in her eyes. It would be a special moment that you would never forget.
But, what are the most suitable styles to go with a wedding dress?