Italian proposals for the men's spring-summer 2010 collections
Let's look in more detail at the new proposals presented by our famous Italian designers for the men's spring-summer 2010 collections.
Ermanno Scervino, Z Zegn, Ermenegildo Zegna, Dolce & Gabbana, D&G, Bottega Veneta, Emporio Armani, Giorgio Armani, Versace, Roberto Cavalli, Trussardi 1911, Gianfranco Ferré, Gucci, Iceberg
Many important labels of Italian luxury style took part in the Milan fashion week this year and every one of them has made a valuable contribution to establishing the main coordinates of the men's look for next spring-summer. However, we have focused our attention on the ones who, in our opinion, have created a look more related to our style, where, we believe there is more attention to detail and a bigger effort to create something really original: something which captures the attention not only of the man, who loves a high quality fashionable product which is also chic and refined, but also of the woman living with him.
Ermanno Scervino uses innovative materials such as natural raffia for his creations . His man wears a three button tailored jacket over a pair of chamois Bermudas or a pair of shantung trousers. The evening look is mainly characterized by the classic silk smoking jacket, sometimes enriched by a detail in vivid tones and accompanied by a double breasted cotton shirt decorated with San Gallo lace (typical Italian lace) and with pleats to enhance the natural form of the body. Scervino gives particular attention to the use of the classic scarf which, if necessary, can be transformed into a belt, or a pochette. The main colors used by Scervino in this men's collection are electric blue, beige, light brown, and white. The evening look is midnight blue or black enriched by pearl grey accessories.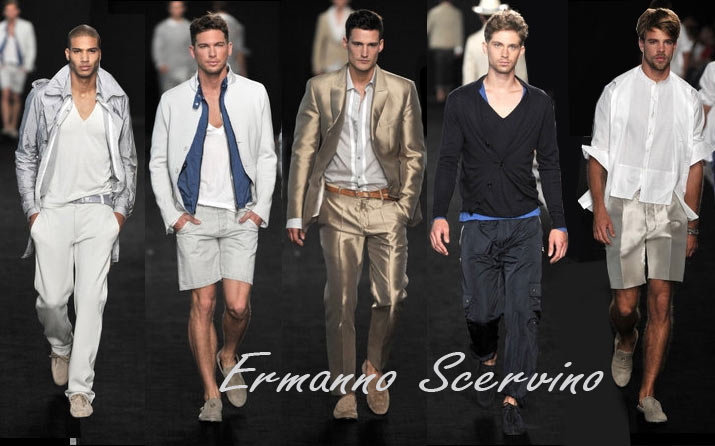 Z Zegna proposes the image of a street dandy who follows an aesthetic made up of precious details and of originality. His designer Alessandro Sartori transforms street graffiti into prints and dresses his models in the double-breasted jacket without any shirt underneath. The trench coat is also worn without a short underneath as an item of clothing in its own right and it is knotted on the side. Haute couture becomes refined dandyism. The top hat is an essential accessory in Zegna's collection, as an expression of beauty and classicality. The combinations of nylon/paper, nylon/ silk or silk/hemp used by Sartori to create his models are very innovative. Very trendy too is the tote bag accompanying the Ermenegildo Zegna man everywhere, as a faithful companion. It is very wide and the man holds it by the handles, like a suit-case. Among the colors chosen by Zegna as typical summer colors for next year, there are grey, shiny sky blue, pinstripe blue (for the evening look)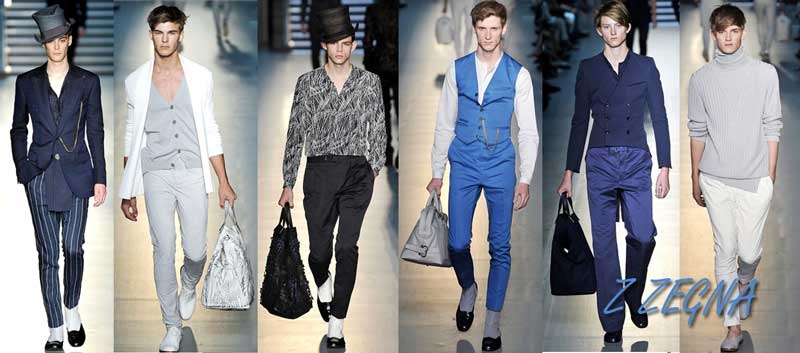 Ermenegildo Zegna, on the contrary thinks about a man deeply bounded to the elegant style of the past, a very sober man wearing classic suits, made of long trousers and double-breasted jackets, completed by light ties and by hats. Refined suits are realized with natural fabrics such as flax, silk and wool. Sometimes classical trousers are substituted by shorts always made of good qualitative fabrics in shaded light tonalities. Trench coats too are very light and refined while the important accessory, the man of Zegna can't absolutely give up, is the tote bag, similar to a suitcase or the classical shoulder bag worn across the body. The most used colors of next spring-summer 2010 are, in Zegna's opinion, the typical fresh summer tonalities such as white, ivory, light beige, next to "universal tonalities" such as grey (used in all its variants), military green, eggplant violet and periwinkle red. Hats are always present as an undisputed symbol of elegance. Sunglasses have a retro inspiration while shoes are soft and classic.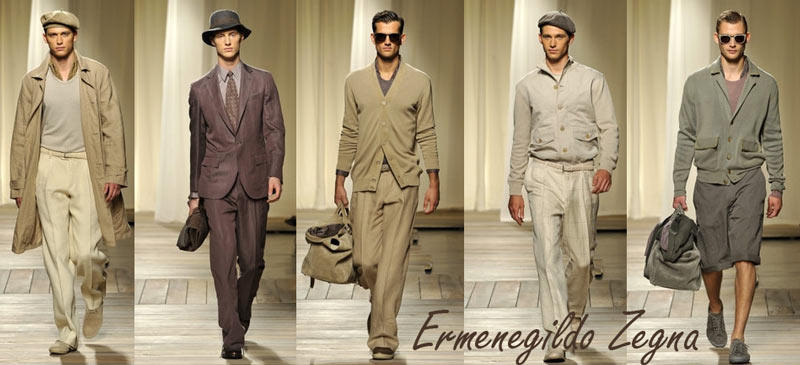 Dolce & Gabbana at Milan fashion week presented two different collections: the D&G label addressed to a more casual young man loving luxury but also comfort and practicality; the Dolce & Gabbana label, having a more elegant touch.
The D&G line proposes a young style influenced. Their man is a cowboy who turns the wild west into a life-style. He wears distressed jeans and spurred boots, studded denim jackets and suede trousers. But the really sexy effect is given by the magical union between jeans and formal wear. Five pocket-jeans are worn with a velvet tailored jacket and a bow-tie. He holds his genuine leather brief-case by the handles, like a simple bag or sometimes it is tucked under the arm like a clutch. The evening look demands an elegant suit in dark blue, grey or classic black, while for the day, the most fashionable shades are beige, brown, sky-blue and denim blue.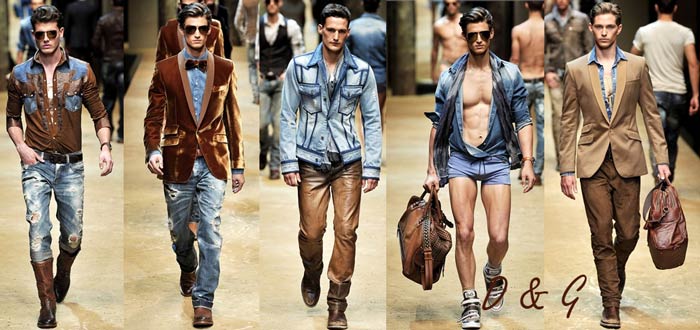 The Dolce & Gabbana line on the other hand, is more elegant, addressed to a man who loves a refined style, both during the day and evening. Jackets are made of shiny fabric and trousers are ankle length. Shiny black ties and black shirts are worn with shorts and moccasins. The alternative: a completely snow white look or a black/grey pinstriped suit. For an important event, such as a wedding, Dolce & Gabbana propose the classic white shirt, a bow tie and a luxury shiny black suit, whose jacket is decorated with glittering detail, as are the shoes, though everything is strictly black. An elegant accessory to accompany the Dolce & Gabbana man to a special party or an important evening event? The classic hand murse, provided with its own lace, always black and with a rigid structure that he clasps in the hand!!!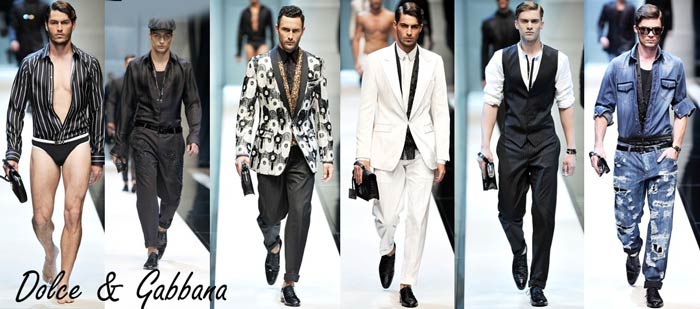 Bottega Veneta sees the summer man of 2010 as a being who loves a casual look, while still demanding the refinement offered by a high quality product. Jackets are more practical if they are closed with a zipper, light V-neck pullovers are worn over shirts, while cotton trousers are ankle length. Moccasins are shiny and worn without socks. He wears very wide tote bags, practical and functional but also incredibly chic, made of stamped leather but also of genuine crocodile skin in many different tonalities: green, vivid blue, brown, grey. However, if this style of bag is too big and bulky, don't worry: the classic flat messenger bag with a long strap worn on the shoulder or across the chest is also the ultimate in fashion according to Bottega Veneta designers. Ostrich leather is very fashionable too for enormous totes, similar to suit-cases where the man can keep everything he needs. The evening look dictates a suit where contrasting vivid colors are mixed together in order to create a special gorgeous effect: coral red, eggplant purple, fuchsia, pink, orange or flowered patterns, giving the item a damask effect.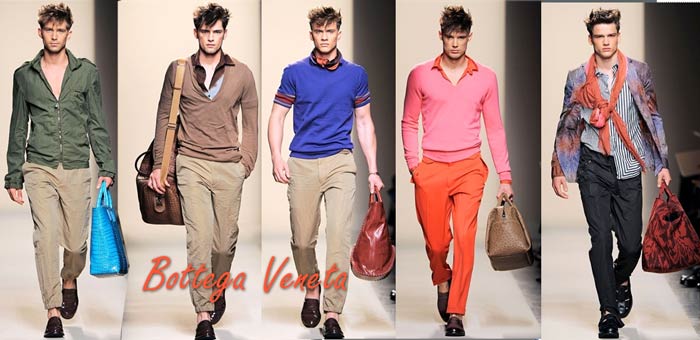 Giorgio Armani, too, like Dolce & Gabbana, showed two different collections at Milan fashion week: the Emporio Armani line and the original Giorgio Armani collection.
The Emporio Armani line is based on an informal young look focused on the many shades of grey. Trousers are dark grey, the T-shirt is medium grey while the jacket is light grey, in the same shade as the tote bag held in the hand. Other colors used are red (both for jackets and trousers) and white (for shorts, belts and shoes). The classic evening look is characterized by pinstriped blue or grey suits. A touch of color is given by orange, applied on the jacket, on the pullover and on the matching tote bag. A chic pouch is often worn around the neck, like a necklace. The bag is present everywhere, even when the man goes cycling but, because it would be dangerous and impractical to hold it by the handles, he can then wear it over the shoulder or, better still, slung across the body.

His more elegant Giorgio Armani line however, celebrates a return to the harmony of classical shapes. The jacket, the most important element characterizing Armani's collection, is here the epitome of haute couture, with just one single button and very small lapels which enhance the shoulders. Ties, after a long hiatus lasting many seasons, appear once more, while denim is so well worked that it looks like pinstripes.  However, as the show goes on, this classical lines changes in something more modern, contemporary, for a more casual and informal style: such are the suits proposing Bermuda instead of trousers.  Armani uses luxury exotic leathers to make the accessories completing the man's look: bags are made of crocodile skin, while sneakers are made of python leather. As he said during a recent interview, "Luxury is never enough for men and if they don't use their crocodile bags for themselves, they could always lend them to their women !"
His collection is mainly characterized by grey, which appears almost everywhere, on pullovers, jackets or casual trousers. Trench coats are knee-length and very light while a touch of brightness is introduced by the electric blue jacket, worn with a shirt and moccasins, in the same color as the jacket. White is used for trousers or for t-shirts, or shirts worn with blue or light-blue fresh Bermudas. The tote bag is omnipresent in grey, beige or a dark color (according to the man's look), normally held by the handles and worn with pride. The evening look is rigorously characterized by dark shades for "the king of fashion".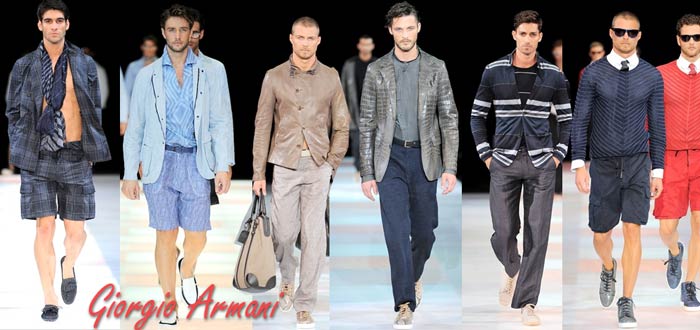 For Versace, the men's look for next spring-summer 2010 must be focused on four main colors: white, light-blue, grey and ivory. Both the classic look and the casual style proposed by Versace at the Milan fashion week are interpreted in these four shades. The short sleeved jacket worn with a light colored T-Shirt, and the shirt with a waistcoat, worn with a classic pair of trousers are very trendy. Versace too sends his models down the catwalk holding their tote bags in the hand. However, despite the new fashionable colors proposed by Versace for next summer 2010, black continues to hold it's ground for the classic evening suit.

The Roberto Cavalli man wears velvet and black leather with gold streaks. Leather in fact, will be very fashionable next summer 2010, according to the famous Tuscan designer, and will be used for trousers or jackets, which are worn with white-tight shirts and midnight-blue or brown ties. A touch of fresh summer color is given by the trousers which can be pink or sky-blue, the most showy have a sort of band around the waist so to highlight the man hips, or by the pink jackets which make us think of the beautiful spring season. The most macho-men can hazard transparent singlet to show biceps and muscles!!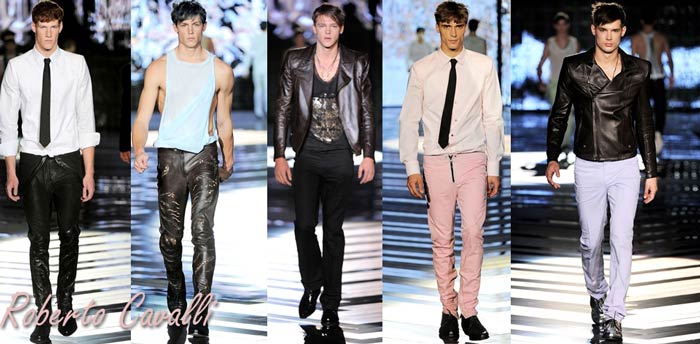 Trussardi 1911 has in mind a sensible and kind-hearted man, who loves music, art and the free-expression in general. This fashion house  promotes ankle length trousers, possibly pinstriped and worn with a tailored jacket or a short sleeved jacket. Dark blue or grey suits are brightened by shocking red shoes, while red jackets are worn over grey trousers and viceversa. The trench coat too is red like the tote bag matching the shoes. Red Bermudas are worn with a blue tailored jacket, a white shirt and a red bow tie. Other proposed colors are: brown (especially for the tote bag) ivory, green, white and sky-blue. A red taffeta trench coat is worn over a black suit for an evening event but strictly matched with red shoes. A touch of red is present everywhere in the Trussardi collection, predicting a passionate summer, full of love, charm and sensuality.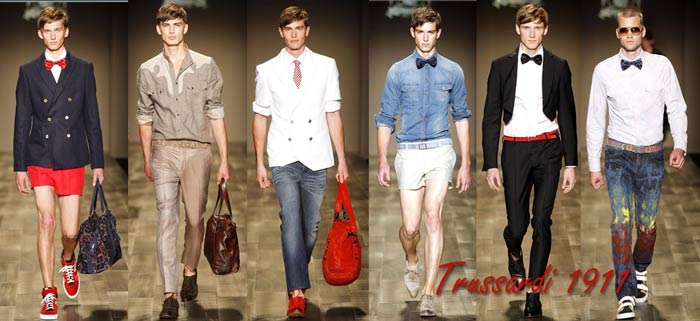 White and black are the essential colors of next summer 2010, according to the collection proposed by Gianfranco Ferré. The tote bag is always at the man's right hand and it is made of black natural leather. Trousers too can be made of leather or of fabric and they can be long or short. Pinstriped grey is perfect both for a casual look or for an evening suit, worn with sporty white shoes. A sky-blue jacket goes with the white look. Dark colored trench coats are tied at the waist by a knotted belt and worn over white trousers. For the man who loves an exclusive casual look, Ferré proposes military green overalls completed by dark bootees, or a casual pair of beige trousers with a beige-green leather jacket. The classic black suit can also be accompanied by a silver pair of shoes in order to give luminosity to the man's look. Tote bags are very trendy for Gianfranco Ferré but for those men who don't like carrying their bag in the hand, he proposes a solution: a gorgeous, comfortable bag with a long strap to wear across the body so that they can feel free and avoid leaving their bag behind everywhere they go!!!!!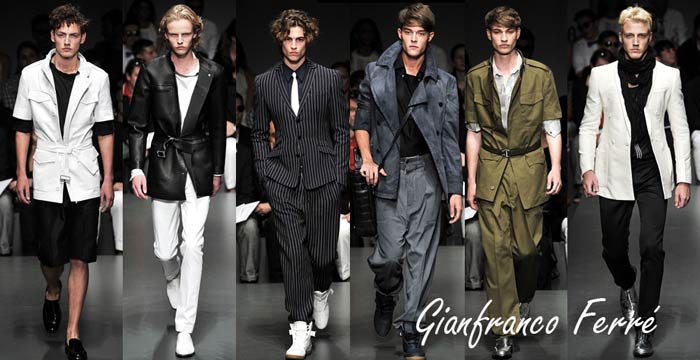 Gucci, through the  collection ideated by Frida Giannini, makes a tribute to the summer and to the sense of freedom typical of this season. The architecture of the Brazilian artist Oscar Niemeyer becomes shiny white sartorial creations, made vivid by colored slim ties and by some geometrical designs. Jacket is destructured and worn on adherent ankle length trousers. The entire collection is enriched by many handmade workings on the fabrics whose stamps recall us some of the historical designs characterizing the brand, and it finishes with items made of jacquard, cotton, piquet and silk. Sportswear is characterized by fabrics such as pierced nylon, waxed cotton, gum and leather.  Elegant suit is deprived of the classic tie in favor of light sweaters. Moccasins are made of patchworks of crocodile, while they are shiny and made of leather if worn on a smoking in stamped silk.  The man of Gucci wears his elegant jacket also on a pair of shorts, accompanying his look with a maxi shoulder bag, elegantly worn on the shoulder. Frida Giannini focuses the most part of the men's collection on white color. Trousers are white, like the jacket and the shoes (rigorously without socks). However, a touch of color is guaranteed by the electric blue or red accessories such as the slim tie or the t-shirt or the tote bag, always by the man's side, so large that he could use it also as suitcase for short travels. Next to white, we also find grey color, in all its variants (lighter for the daily look and darker for the classical evening style) and indigo blue, which is the "Must have" color of next spring-summer  2010, according to Mrs Giannini, concerning the elegant man style, above all if it is combined on high qualitative shiny silk. For those men who love daring and showing their excellent physical aspect, very gorgeous is the taffeta shiny red suit, accompanied by a red t-shirt.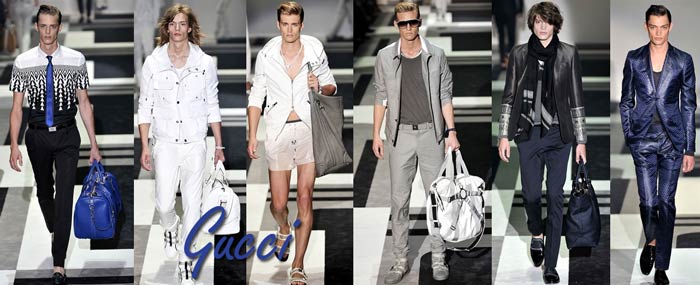 The stylist of Iceberg, Paolo Gerani, for this collection, has thought to a sort of union between classic and sportswear, which can better represent a man who is seen as the result of a mix between the gossip photographer and the pop artist. The result is the creation of a very good structured collection which sees the presence of knit jackets with reverses made of satin, shirts made of cotton gabardine and provided with many pockets. Trousers are long till to the ankle and accompanied by high sneakers or moccasins. Gerani celebrates the coming back of the classical hat in vichy fantasy, combined on the slim scarf in the same color. Clothes are essentially monochromatic but some flashes of colors are given by the accessories such as the vivid green of the tote bag's handles combined on the T-shirt or on a particular of it, or the electric blue of the bag in combination with the color of the trainers. Casual jackets are brown or vivid blue, perfect on a jeans or on a beige pair of trousers. Other used colors are: coral red, yellow, strong red, violet, military green or fuchsia. Another important tonality that, according to Iceberg's stylist, will be incredibly fashionable next spring-summer 2010 is turquoise, used both for the leather jacket or for the trousers or for the T-shirt, or, more simply for the accessories such as the belt or the socks, to combine on a more sober color such as grey, white, beige  or black. The man proposed by Iceberg doesn't give up to his tote bag, mainly white or grey toned but enlightened with vivid colored finishing or decorations.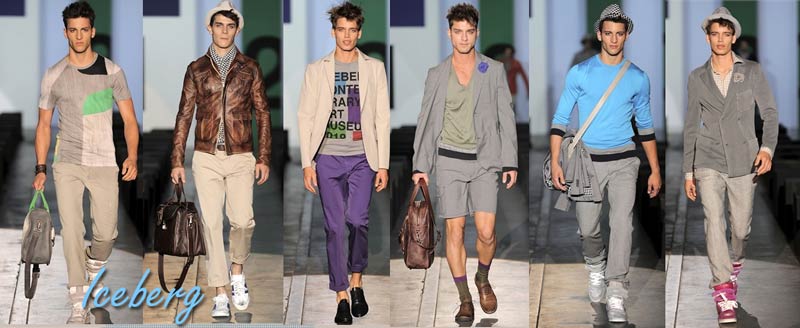 As we said at the beginning of this article, many important and, above all, historic Italian brands took part in this edition of Milan fashion week but it would be impossible to describe each collection in detail. So we have made a selection, focusing our attention just on those designers that, in our opinion are nearest to our idea of style and elegance.
In a few days, we will inform you about the trends in men's clothing and accessories for next spring-summer 2010 as proposed by the French designers at the recently concluded Paris fashion week! So, don't lose  sight of our Gleni blog!!!!!!