When tradition meets innovation: Menswear Spring/Summer 2011
Following Pitti Immagine Uomo, Milan Moda Uomo has now also drawn to a close after 4 days crammed with events and entertainments, showing the best in men's fashion and style. Indeed, between June 19th and June 22nd , Milan became the most renowned fashion capital of men's style, attracting the attention of thousands of visitors and press from all over the world, sure of attending a magnificent celebration of elegance, refinement and undisputable allure.
The official agenda announced the presence of those exceptional brands and names Italy is most proud of, such as Emporio Armani, Roberto Cavalli, Carlo Pignatelli, Dolce & Gabbana and Ermenegildo Zegna, who took the opportunity of the 2011 Menswear Spring/Summer Fashion week to celebrate its first centenary, by showing a double collection on the catwalks and mounting an exhibition at Milan's "La Triennale".
Among the numerous fashion shows that took place over these 4 days, a very clear trend emerged which will characterize our men during the Spring/Summer season 2011: men will wear a formal but unconventional style with bold and seductive lines. The more daring can even adopt rock and military retrospective looks, but what really characterized this year's Milano Moda Uomo was the great attention to tailoring throughout and the use of natural fabrics.
The tailored jacket is a must for the men's wardrobe in 2011 and, instead of ties, it is worn with scarves or foulards strictly made of silk, and carefully tied around the neck.
The silhouette will be enhanced by slim or skin tight cuts, or by daring necklines, while outfits show off legs and abs.
Prestigious fabrics and a careful attention to detail are the vital ingredients for an elegant wardrobe which takes the mid ground between modernity and tradition.
But, are you curious to see what the individual fashion houses had to propose for this year's Milan Fashion Week in more detail? Here we've captured the highlights of the shows.
GIORGIO ARMANI. The classic tonalities of this extraordinary Italian brand, such as beige, grey and black, are enlivened by bright accent colors such as yellow and green found on pochettes, ties, sunglasses and belts: after all, it's summer indeed! As usual, Armani's collection was all about the jacket: the low-buttoning and double-breasted models placed a new emphasis on the chest, while Giorgio Armani toyed with buttons – shiny – and lapels – trimmed or shawl-collared for daywear. What he wants to create is an effect of lightness, underlined as well by soft trousers. He jokily paired a gingham jacket with pants in a Prince of Wales check, substituted shirts with gilets, as a good alternative under a perforated leather jacket with printed or embroidered geometrical motifs and, finally, matched blue jackets with shirts in the same shade.
EMPORIO ARMANI. A wave of contemporary chic characterized the second line of King Giorgio: down the catwalks strode an aggressive man that we never expected to see. During the first half of the show, black leather dominated the collection with wild-boy models glowering through heavy eye makeup and sporting slave chains, studs and grommets. Finding his way to more familiar territory in the second half, the designer shifted the emphasis to tailoring, in fabrics so light they were almost sheer.
DOLCE E GABBANA. With the 20th anniversary celebration of their signature men's collection, the fantastic Italian duo's fashion show was an hymn to the simple pleasures of life and to simpler times, with a collection that gave fresh life to the house's classic themes, primarily Sicily, where Dolce learned his formidable tailoring skills: elegant three-piece suits in white linen, blousons in leather mesh or perforated suede highlighted the label's craftsmanship. Tank tops, slouchy knits and distressed jeans, loosely belted with rope, expressed the more seductive aspect of the designers. To complete the collection were sharply defined pieces like the black-and-white-striped knit polos with matching shorts, and the familiar march past of several dozen variations of the tuxedo.
ERMENEGILDO ZEGNA. The first catwalk show of his second century is dedicated to a contemporary man who is more elegant in soul than in style: tailoring, light and ease are the key words for the Ermenegildo Zegna 2011 Spring/Summer collection, which, despite reaching such a milestone (the label has just celebrated its first centenary of dedication to the world of fashion), continues to focus on creativity and moving the label's staples into the future. For the man of 2011 the collection proposed a light style, meaning a wardrobe not in the least banal, characterized by jackets that have been lightened up (literally, in the case of the new "zero-weight" jackets), in daring bright and vibrant colors such as orange, blue and espresso. The colors reinforce the sportiness that has transformed this label, without losing sight of its renowned attention to detail: leather piping on a cardigan, the strap closures on the pockets of a blouson, the stretch waist and cuffs on casual pants. However, the real hit is the blue double-breasted blazer in pure linen, which is the must of the entire collection. At the heart of the collection is always the fabric, innovatively looking to the future but never forgetting the tailoring soul that has been synonymous with Zegna for 100 years. With the younger Z-Zegna collection, the attention shifts towards a modern man that, though he still connects with the Zegna world, loves experimentation: so, the public is served with jackets that hybridize different weights and textures of cloth, or layering super-light fabrics to create a 3-D effect with print.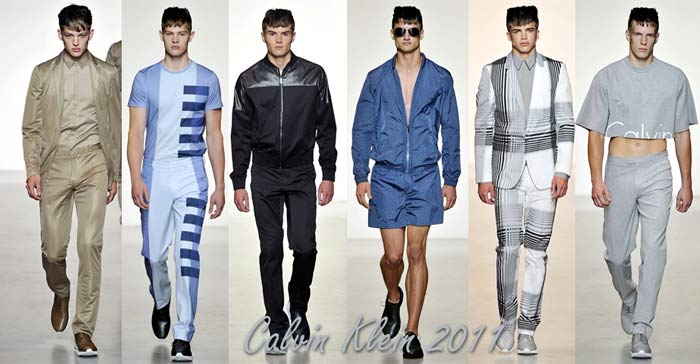 Growing up on the coast of northern Italy, Italo Zucchelli identified Calvin Klein as the essence of American sportswear. Since becoming the house designer, he has fused the inherent athleticism of the label with his own instinctive strengths: tailoring and a feel for innovative fabrics. All these characteristics are well summarized in a jacket, pants and t-shirt outfit in sand tones that was as elegant as anything Zucchelli has ever designed, or in the broad-shoulder suit with a gray marbled fleck, or the oversize chino shirts. The athletic theme also showed up in vertically and horizontally striped tops and pants that created the illusion of a single piece.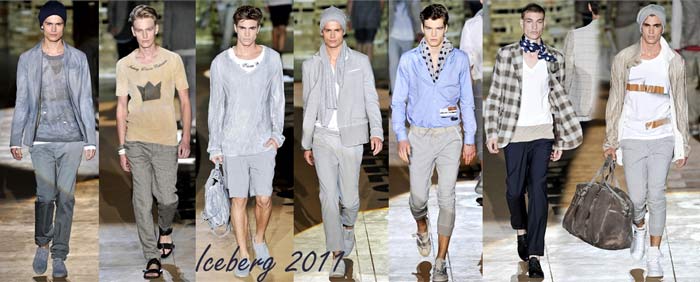 ICEBERG: For Spring/Summer 2011, Iceberg creative director, Paolo Gerani, took the classic children's tale "The Little Prince" as his inspiration, presenting a collection which repeated those themes of decay and renewal, by proposing knitwear that looked old, burned and holey, and distressed footwear. He also worked the recycling theme in sweatshirt material reconfigured as a tailored jacket/bomber hybrid and as a blazer with baseball jacket sleeves; pinstriped silk pants with stretched ankle felt like they'd been pajamas in a former life, while two pristine blousons in green leather evoked growth and rebirth.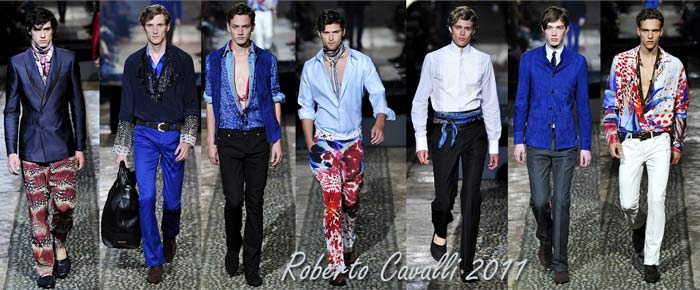 ROBERTO CAVALLI: one of Cavalli's strengths is the artisanship of the Florentine leatherworkers, which he celebrated with a blue suede jacket with a spine of studs. His animal prints have always been a successful signature theme and, of course, we find them applied to classic jackets, trousers and shirts, or sometimes substituted with colorful patterns. To add a touch of youth and vitality, scarves and foulards in electric colors are worn around the waist.
These were just some of the numerous brands that showed their collections during this year's Milano Moda Uomo for Spring/Summer 2011, an occasion to celebrate the best of Made in Italy, which combines artisanship with innovation, always underlining Italy's ability to express superb taste and elegance without compromises.
So, what do you think of these collections, which put Italy at the center of the international fashion world's interest? Did you like them and agree with our choices? We would be glad to know your opinion on the matter.