Which are the IT BAGS of the fall-winter season 2010-2011?
Fashionable, classic or luxury, the handbag is every woman's best friend.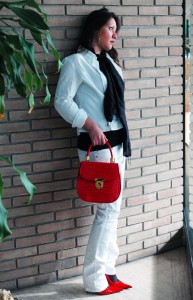 It is always at her side, no matter where she is or what she is doing, because for a woman the handbag is not just a practical and convenient accessory to hold all her beauty secrets and her most precious things; it's part of her life, of her daily routine, of herself.
A woman without her handbag is not a real woman, deprived of that vital element which confers elegance, style and femininity upon her: she might certainly look more casual and practical without one, but could never be considered refined and gorgeous!
A handbag can transform a woman into creature of light and an ordinary look into a very glamorous and trendy style in less than a second; what could possible be more powerful and magical?
Large or small, colorful or plain black, a handbag perfectly satisfies all the necessities of a woman throughout her daily routine.
However a handbag, to really qualify as a woman's best friend, should also have a modern line, so that she always looks trendy and fashionable and not just practical and confident.
This is the reason why we have decided to create a list of all the most fashionable models of handbags for the coming fall-winter season 2010/2011 to remind you which are the most stylish models this winter, according to what fashion designers proposed in the matter of accessories during the latest fall-winter 2010-2011 fashion weeks.
We really hope that this list will be helpful for all those fashionistas, lovers of new and stylish products who wish to update their wardrobes with trendy new accessories, so that they will be at the height of luxury and fashion this winter.
So, which are the five top models of handbags considered the Must Haves of the coming fall-winter season 2010/2011? Let's look at them in more detail!!!!
The

classic tote bag

continues its success this winter too, much appreciated by all those business women who usually spend most of their day out and about for work and need to have their personal effects constantly  at their side to always appear fresh and dynamic in any situation, even when they are tired. With many convenient external and internal pockets, the tote bag is also considered the perfect bag for moms with small babies because it is big enough to hold toys, feeding bottles, snacks and also clothes in case children get dirty. But it is certainly beloved by young women too, who very often use it as a travel bag when they go away for a weekend with their partner or with friends. This model, according to what designers presented at the latest fall-winter 2010/2011 fashion weeks, is fashionable when made in genuine leather, but even more chic (and light) if made of exotic leather such as crocodile, python or ostrich, as suggested by many luxury Italian brands.
The

backpack

,  not even considered as a fashion item until a few months ago, is coming back and, according to what was proposed last March at the Mipel show (the world-famous  trade show that takes place twice a year in Milan to reveal the latest news in leather handbags and accessories for the following fashion season) seems to be enjoying a second youth this winter, either made in fabric or genuine leather and available in many different styles: young, casual, folksy, fun or absolutely elegant, enriched with precious decorations and finishing. Plain or patterned, this model seems destined to be a resounding success and is suitable for all ages, above all for girls who love wearing dynamic accessories.
The classic

shoulder bag

, so beloved by women because of its extreme practicality, will be the latest in fashion this winter too, especially in genuine leather in the warm shades of beige, brown and camel. Available in many different models and sizes, provided with visible stitching or enriched with pendants or decorations, the shoulder bag will assure you of elegance and style everywhere, whether you are at work or walking down the street with your friends or with your children. Many women are fond of this style of bag because it is not bulky, so it can be easily used as a shopping bag to hold all their purchases, allowing them to have both their hands absolutely free to complete their shopping.
However, if you really want to appear fashionable with your shoulder bag at your side, you should wear it not on the shoulder but clasped in the hand or dangle it by its strap (if it's not too long) as proposed in the latest fashion parades. It is certainly much less practical but very trendy, a very small sacrifice for looking chic and up to the minute.
Trunk bags made of exotic leather such as genuine python or crocodile, (like the ones proposed by Prada in her latest collection) or made of fur, (as suggested by Cesare Paciotti) are another MUST HAVE of the coming season as far as luxury accessories are concerned. Very neat and well-finished, this model can be worn with a casual look but also with an elegant dress, thanks to the precious handle decorated with stones and shining pearls. Suitable for all ages, it works particularly well for girls who like wearing colorful and dynamic accessories, without losing the elegance assured by a classic shaped model.
The queen of the night, despite the passing of years and the changes in fashion and trends, is still the

pochette

. Made of leather or of luxury fabrics such as silk or satin, it continues to be a MUST for elegance and refinement, accompanying each evening look with charm and prestige. However, the kind of pochette proposed by our designers at the latest fall-winter 2010/2011 fashion weeks is more like a jewel than a small handbag because it is highly decorated and well-finished in every detail. In fact, the main focus of this accessory, as many fashion designers affirmed, is not the convenience of the woman wearing it (its small size doesn't allow it to be as practical and useful as a wider hobo), but rather to enhance the woman's look, letting her shine like a star. This is the reason why they are embellished with pearls, glitter or with wonderful jewelled–buckles or with gold or silver detachable chain straps.
And, what about the colors? Which are the trendiest tonalities of the coming winter season 2010/2011?
As announced in our previous articles, the fashion colors of this winter mainly revolve around shades of brown and beige, through to camel and turtledove. However, if you want to look "original and different from the crowd", you can opt for more unusual colors such as rust, oxidized green, carmine or ruby red, or for vivid tonalities such as yellow, blue, light pink, violet or scarlet red.
So, what's your favorite model of handbag of these MUST HAVEs for the next fall-winter season 2010/2011?
Is there a style of handbag in particular that you are very attached to and that you won't ever give up, despite changing fashion trends?
Leave your comment here below!!!