Why do I receive Alerts? (Wholesalers Catalog)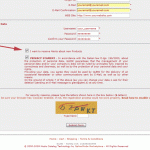 Since we often receive e-mails with this question, we thought we should explain more about them.
The alerts that you receive are directly authorized by you when you register with us. In the registration form, there is a pre-ticked box which says: "I want to receive Alerts about new Products".
*************************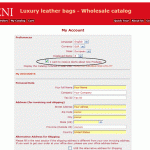 If you change your mind after registration and no longer wish to receive alerts you can of course change settings. All you have to do is select "My account" from the main page and de-select the box beside "I want to receive Alerts about new Products". After that, scroll to the bottom of the page and click on "Confirm your data".
**********************************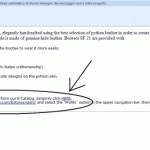 Another quick and easy way to stop receiving our Alert is available on the e-mail itself : when you receive one of our emails, all you have to do is scroll down to the bottom where you will find this sentence: "If you do NOT want to receive any more Alerts from our E-Catalog, simply click HERE"; just click where indicated.
However we recommend that you  keep the Alert function active, so that you can easily be updated on our news and special offers without having to log in every time to find out what is new. The Alert is a fast and safe method to keep informed, so we hope you will use it!