If art and beauty devotion, together with a meticulous care for all the artistic aspects of everyday's life has always characterized the Italian thought and philosophy since its origins, we at Gleni well deserve to be considered an integrant part of this mentality.
Whether we are talking about an historical monument that shows us all the extraordinary strength and talent of ancient artists or a prestigious fashion accessory that reveals its qualities although the passing of the time, both of them have something in common: the high attention to detail, the particular care in the production and realization phase, the amazing consideration of the meaning of beauty with the aim of creating something destined to preserve its quality and its attractive power over the years.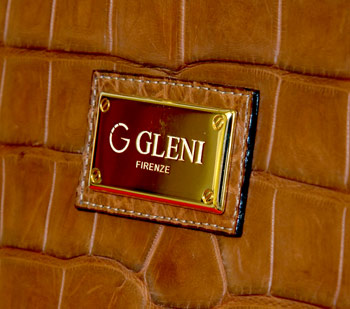 Having in mind this principal idea,
Gleni's company
was founded in order to create a unique product that is guarantee of the fine Italian handmade production, an exclusive item marked and characterized by its personality, its style, its meticulous
craftsmanship
and finishing in the smallest detail: an article that is the emblem of the true Italian 100% craftsmanship, from the realization of the model on paper to the final product ready to be sold.
If Italy is nowadays world-wide known for its long coveted "Made in Italy" brand, we have to thank for this all those small artisanal laboratories that, despite the daily hard work they have to carry out, requiring lots of patience, attention, skill and experience, they didn't give up in handing down generation after generation an ancient practice that turns them into our contemporary artists. They don't take into consideration the opportunity of great volume productions and they can't assure the customer to finish a specific item within a day, but they surely can provide the customer with a precious work of art that reflects all the love and care applied during its production: a unique product that you won't never to part from.
Despite the severe economic crisis that hits Italian companies and the strong extra-European competition that is pushing lots of our Italian realities to completely close or relocate the production process abroad, where labor costs are much lower, we have firmly chosen to continue to preserve our production here in Italy, fully respecting our initial commitment in front of our customers, that of obtaining a Made in Italy product that is 100% genuine.

With the market experiencing a period of intense competition and as a direct consequence of the industrialization process, consumers are faced with a vast choice, in any field: but, where do you think they will lead their choice? Towards something unreliable, without knowing its production origins and no guarantees on its trustworthy, or towards something that is the emblem of high quality? The answer should not be difficult!
For this reason, the secret to emerge in such a context, without following the common tendency, is that of focusing on quality, that only an article claiming the so much coveted "Made in Italy" label, can provide.
But to be really a genuine "Made in Italy" product, the item doesn't only need to be made in this country, it also needs to count on the Italian raw materials, synonymous of reliability and duration over the time: this is why we spend lots of time visiting the most renowned Italian tanneries, in order to select, compare and analyze that specific material with which we are going to realize our creations. The exotic leather Gleni uses for its collections has to capture our staff's senses immediately: from sight to touch, it's all about the sensation that it inspires, the harmony it reflects and the many pleasant aspects we all can gain from it.
So, in order to be reminded forever, the product has to satisfy everyone's needs. There's nothing more than a handbag or an accessory can mean both to women and men, especially when they are guaranteed to last forever.

By combining the artisanal skills of our laboratories and the high quality of the exotic leather used during the production phase – such as python, ostrich and crocodile – Gleni is able to offer to its wide range of customers a great variety of handbags models, in different shapes, colors and lines.
If handbags are our initial passion, we couldn't miss the opportunity of satisfying our customers' tastes without offering them the matching accessory such as belt or wallet. Simple and not very sophisticated models are enriched sometimes by elegant decorations on buckles or fastenings, but what really turns them into something special and unique is the leather itself: a magnificent subject that speaks of luxury, prestige and quality, that transforms the artisanal made accessory into a precious jewel.

Gleni's production also involve a line of men's shoes, always realized in prestigious python leather, and soon a woman's line will come.
This is how we at Gleni organizes our activities, always keeping in mind the important meaning of the Made in Italy concept, because only something that shows a meticulous attention during all the production process and its made of high-quality materials, can last by your side forever!