... a line where nothing is taken for granted but where everything is pure prestige and extreme refinement...
Crocodile skin can certainly be considered the most valuable leather in the world.

A genuine crocodile bag in fact, is not accessible to everyone, and, having one of these items is a real status symbol, synonymous with exclusivity and quality.
Luxury and unbounded elegance find no better expression than an item made of genuine crocodile ... above all if this item is a handbag, the most desired and coveted object in the feminine world.
Even though considered the most prestigious material of all the exotic leathers and, for this very reason the most expensive, crocodile continues its success with all lovers of beauty, lasting a lifetime, enduring and unfaded despite the passing of years.
Both women and men appreciate the elegant qualities of this leather, aware that, wearing a crocodile bag nowadays means being part of an elite, of a select niche of conniosseurs of all that is precious and unchanging ... that is, a status symbol of class and magnificence.
As the handbag has become an accessory that a woman can't do without during the day, given that she puts everything in it (even the unimaginable), it is absolutely necessary that this item is made from a strong and resilient leather. However there is no reason for this to mean losing out on beauty, and the bag should also reflect the personality of the woman wearing it with class and charm. And it's here that genuine crocodile leather plays its role, as the type of leather universally considered the most precious in the world!
Maybe thinking of the animal itself could give the impression that the leather would be rigid, and awkwardly structured, but you would certainly be surprised to discover its wonderful elasticity that, combined with its extreme versatility, makes this leather work perfectly with any chosen design of accessory, from the softest to the most compact and rigid.
One thing is sure: if you are looking for a fashionable accessory or for a handbag that blends elegance and sensuality, suitable for the modern woman, who is exacting, sensitive to fashion changes and self-confident, genuine crocodile leather is the answer: an item of undisputed class, whose quality is incontestable, in contrast to the many mass-produced products that are invading the current market.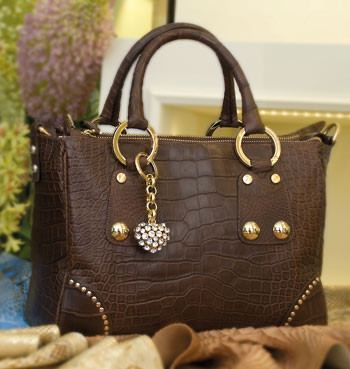 There are many characteristics that would lead us to select genuine crocodile as our favourite leather, starting with the aesthetic qualities: the softness of the leather is most enhanced in the section corresponding to the belly of the animal, proposing scales of different dimensions. In fact, flat scales, bigger and rectangular in the central section of the crocodile body, become round and smaller in dimensions at the extremities.
Given the similarity with other reptile species, it's not unusual to get genuine crocodile leather confused with alligator or, worse, with caiman, which, in comparison with the first two leathers, shows many huge differences, especially in quality.

Very often, this misunderstanding is due to cultural differences. Americans, for example, tend to call "crocodiles" alligators, while Europeans tend to call "alligators" crocodiles.
These two leathers are anyway very similar, although on more careful examination, it's possible to distinguish between these two skins without any difficulty.
The visual, tactile and sensory qualities of genuine crocodile, obviously wouldn't  be successfully enhanced unless the leather was delivered to skilful and experienced craftsmen, whose workmanship is precise in every smallest detail: just think about the huge waste of money that could come from cutting the leather wrongly or by sewing a crooked seam. The hole left by the needle can never be repaired, so the leather would be irrevocably damaged perhaps no longer usable: then consider that the valuation of genuine crocodile leather is not calculated in meters but in centimetres!
Gleni is glad to offer its loyal customers the best selection of luxury handbags made from genuine crocodile leather; this leather is totally worked by hand here in Italy, by the best tanneries where craftsmanship and love of refinement and elegance represent the fundamental qualities even today.

We are dealing with a really high quality leather, soft, elegant, perfectly well-finished, in order to always assure you absolute prestige: denoting the genuineness of the crocodile skin, the leather that we trade in here at Gleni – of high quality and value – is submitted to the rigid and strict Cites regulations, that is the series of dispositions imposed for the control of international trade in endangered species.
As far as the coloration is concerned, crocodile leather is particularly suitable to absorb any tonality you want, so, besides the traditional range of sober shades such as brown, dark brown (Testa di moro) and black, we have added other variants over time, responding to the more and more diverse and exacting tastes of our customers. It's in this very way that any personality can find the colors that best match his/her look so we are even winning over the youngest range of Gleni customers, offering them items with a young and refined style, in the trendiest colours.

We hope to have satisfied once more all your tastes and desires for pure elegance and beauty, creating this exclusive line of products made of genuine crocodile, a line where nothing is taken for granted but where everything is pure prestige and extreme refinement.
We are at your complete disposal for any further request or information on our products. You can contact us via e-mail at the following e-mail address gleni@gleni.it or you can phone us at the following number: + 39 0735 657565.
We suggest that any of our customers who love genuine crocodile bags but find their prices too high and sometimes out of reach, should visit the section devoted to handbags made of cocco-ligator where they will find many original and prestigious handbags, crafted with absolute elegance and perfection in a vast range of different models and colours, at a more affordable price than that of genuine crocodile bags. Cocco Ligator bags are as refined and well finished and, from an aesthetic point of view, they are just as outstanding as genuine crocodile items.
Cocco Ligator leather is produced in the most prestigious Italian tanneries according to the so-called Ligator process, using natural fibres of genuine crocodile and alligator.
This leather is perfectly coloured and hand modelled by our experienced Italian craftsmen with the best care and attention, in order to create a soft and prestigious leather suitable to  manufacture a high class bag.