Fashion! What does that one word bring to your mind? Catwalks with exquisite models elegantly sashaying in the latest fashion trends; Paris, Milan, New York, London; a spot of retail therapy in the hottest designer showrooms?
Once you've fallen for this season's must-have outfit, you can turn your mind to fashion accessories.
The latest fashion handbag is indispensable to finish off your look. No woman these days feels complete without a bag that reflects her look, her personality, her style. Just take a look at the latest designer collections - do you see the model nonchalantly swinging an outsize tote or doctor's bag? Or dangling a shimmering mini-purse from an elegant wrist?
Today's handbag fashions are going for the larger than life style of fashion accessory, some of the more extreme being more luggage than handbag; either that or a tiny clutch, exquisitely jewelled minaudiere or purse.
Exotics are among the hottest of the latest fashion trends for handbags and accessories. Designers can't get enough of python, crocodile and alligator; these exotic skins are appearing in all shapes and colors, endlessly versatile, endlessly chic.
---
So what should you choose to invest in, when you are spoilt for choice, with so many styles of fashion handbags to choose from?
A basic fashion accessory wardrobe should encompass a minimum of three handbags. You need a casual, comfortable, roomy but stylish handbag that will see you through most of your daytime leisure activities; a chic and smart bag for your professional life that will fit everything you need in an organised way; and finally a sophisticated, small, evening bag.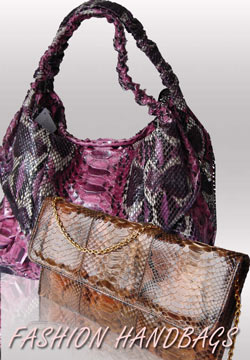 For casual daytime choose a fashion handbag that you can't beat for comfort: a soft, sensual python hobo, that can be slung over a shoulder or swung from a hand, that will fit everything you need with room to spare; or a big, bright tote with long enough handles to go over your shoulder and free your hands for shopping!
More than a fashion accessory, a handbag that doubles as a badge of professionalism, such as a sleek, crocodile classic handbag or structured tote is next on your shopping list. Go for great design, clean lines and classic black or neutrals. Check out the inside of the handbag for well thought out compartments that will keep papers and work accessories organised and easily accessible.
Fashion handbags for the evening come in a multitude of shapes and styles, but if you are just choosing one, go for a timeless classic: perhaps a clutch that comes with a removable chain shoulder strap in python or crocodile. You won't go wrong with glamorous black, or choose a neutral, cream or brown in snakeskin, that will withstand the vagaries of fashion and last you for years.
Of course, if your budget allows, and you get bitten by the handbag bug, you can build up a wardrobe of handbags for every occasion. There is nothing in the world of fashion accessories that is more collectible than a handbag. A handbag becomes part of you, invested with your personality and style, carrying your life within its supple leather skin. Once you fall in love with a handbag, you know that it is far more than a mere fashion accessory!