If you follow the evolution of handbag style, going hand in hand with mainstream fashion, through the twentieth and twenty first centuries, you start to see patterns. As the role of women in society has evolved, the handbag has evolved and adapted to their changing needs. Dips in the global economy are reflected by more practical, restrained handbag styles, boom periods by expansive extravagance.
---
The beginning of the twentieth century saw the first emergence of the modern women's handbag. The decorative net purses of the previous century evolved into more practical bags with built in pockets for comb, mirror and change purse. Women became newly emancipated, less dependant on men for escort and the handbag was a symbol of their new independence. Now they could go anywhere without relying on an escort, carrying their own money, keys, notebook, lipstick and powder, even passport, in their handbags.
Coco Chanel is the fashion designer credited with the invention of the shoulder bag for women. Inspired by military satchels and tired of having hands encumbered by her bag, she attached a thin leather strap to her ladylike bags in black or navy jersey and launched them in 1929. This first shoulder bag eventually evolved into her iconic 2.55 bag in its signature quilted silk or leather with gold chain strap, the perfect elegant solution to leave elegant Fifties socialites their hands free for champagne glass and cigarette at smart cocktail parties.
---
Women's fashion in the Forties and Fifties, as it still is today, was very influenced by the stars of the screen – they were glamorous icons raised almost to royal status, Grace Kelly even truly becoming a royal. The look was grown up and glamorous and fashions changed more slowly at that period, evolving rather than leaping from one extreme to another. Several handbag designs, that were developed by famous fashion designers around this time, became true classics that have endured to this day, including the Hermes Kelly bag and Chanel's 2.55 handbag.
Our generation wasn't the first to adopt the big bag fashion trend – it has had two other major flowerings in the past century – once at the cusp of the 20th century, though by McCall's November 1904 issue it was noted that: "the trend is decidedly in the direction of smaller types; the day of the extremely large bag is past. In its place have come models that suggest a partial reversion to pocketbook types of ye olden times." Towards the end of the Fifties, with new prosperity signalling a return to consumerism after the deprivations of the post-war years, women's handbags grew in size from the more demure handbags of the mid Fifties, until they were reportedly almost big enough to carry the kitchen sink!
---
The Sixties and Seventies with their predominant youth culture introduced a huge fashion divide between what older women were wearing and the new hip fashions for the young and this same divide showed up in handbag fashion trends. In previous decades young women had aspired to look smart and grown up, not necessarily dressing like their mothers but certainly copying sophisticated adult role models, such as film stars and royalty. Now it was suddenly different.
Established fashion designers catered for older women who continued to dress elegantly in classic styles and wear classic handbags, while new hip fashion designers like Vivienne Westwood turned fashion on its head for the young. Young people abandoned the traditional handbag and replaced it with any form of convenient holdall, or casual bag, often made of cloth or canvas. The hippy flower power culture saw a huge trend for vegetarianism, even veganism and for a while leather was eschewed by the young in favour of non-animal materials. PVC was a bright new material that was used to make funky accessories and Lucite was also an option for bags and handles. Bright home-made patchwork or macramé satchels, canvas back packs and duffel bags were everywhere, casual was the order of the day.
---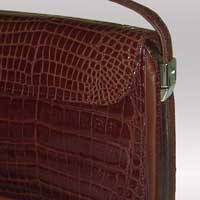 The beginning of the Seventies saw a huge rise in inflation, fuelled by oil prices rising, and slowed the more extravagant fashion whimsies of the Sixties – a more practical mood set in with younger women taking to trouser suits for work and practical, easy to carry bags like the shoulder bag were in the ascendant. The clutch still had its place for evening wear though, showing up under the arms of celebrities and stars, who kept the glamorous mood alive.
1980's fashion once again  persuaded younger women into grown up styles with the smart suit and power dressing becoming essential for younger people pursuing fast track city careers. We emerged from the fancy dress of punk and the New Romantic era into a world of suits and shoulder pads, twenty year-olds masquerading as seasoned professionals and to complement the smart look, grown-up handbags made a come back. Consumerism was re-born as city bonuses spiraled and everyone wanted to own the fast car, big name designer outfits and smart accessories. Designer bags were now once again in demand as status symbols.  Colourful decorated clutches were matched to brightly coloured shoes and metallic gold was very popular. The practicality of the shoulder bag was still in vogue among women making their mark in the man's world of the city, but now smart women favoured the elegance and status of the famed quilted Chanel chain bags and work bags had to be big enough for a bulging Filofax, that indispensable paper predecessor of the Blackberry.
---
The Nineties started with an economic slump that put paid to the city myth of easy riches and encouraged a more casual and individual fashion mood. Bags once again became more casual and practical and small back packs became fashionable again. The youth grunge style avoided big labels and went for messenger bags and rucksacks, and big name designers lost out on a large section of the youth market, who were no longer interested in the big fashion house labels, though older women remained loyal to the classic handbag styles, holding fast to their Kellys, Birkins and 2.55s.
The new Millenium has seen a huge rise in women's passion for handbags, this time carrying young women along with the enthusiasm too, with designer bags becoming coveted status symbols and handbag collections becoming de rigueur for any woman of style. Big bags, re-emerged as a fashion trend in response to the growing amount of things women need to carry with them today, rushing between work, business and leisure activities with all the technological gadgets they need to lug with them, Macbook or laptop, iphone and iPod,
Now in 2008, however, with the gloomy economy casting a pall, just like in the early Seventies and Nineties, women are reportedly turning to more conservative and practical handbag styles and the shoulder bag is making a come back. This also ties in with the fashion designers over the last couple of seasons turning to the Seventies for inspiration, with maxi dresses, retro prints and bell-bottoms hitting the cat walks.
---
Fashion trends do seem inextricably linked to the global economy and a pattern has emerged through the decades of the last century. A time of recession and financial crisis results in more practical and restrained, classic styling, whereas a boom sets  flamboyance free in women's fashion, for fancy dress fashion trends and elaborately glitzy and whimsical extravagance. Classic designs remain current throughout both economic extremes and women who prefer classic elegance to following every last fashion trend will usually win out, building collections of stylish handbags that outlast the vagaries of fashion.
The mood of the age is translated by fashion designers into the fashion trends that we see on the runways, and though right now we may feel the need to tighten our designer belts and hold fast to our classic handbag designs we can be optimistic that the economy, along with fashion and style, will come full circle and eventually there will be another period of bright colour, fun and frivolous extravagance on the way!
Classic designs remain current throughout both economic extremes and women who prefer classic elegance to following every last fashion trend will usually win out, building collections of stylish handbags that outlast the vagaries of fashion.
Latest fashion article by Gleni Blog: