| | |
| --- | --- |
| Collections: a look at all Gleni's product lines | |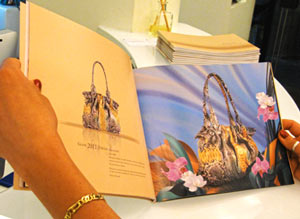 The world of exotic leather has always wrapped an aura of elegance and refinement around itself, which, has remained intense and sought after over the years, winning an ever-increasing number of fans. 
Softness and resilience, suppleness and adaptability to specific stylistic designs, the ability to visually transmit a wide range of colors and tonalities...these are just some characteristics that make exotic leather the dream of every woman and man, who loves luxury and refinement.
Attracted by the excellent qualities and natural characteristics, as well as by the extraordinary visual and tactile impact of these skins, our Gleni team decided to use python, crocodile and ostrich as the preferred material with which to create our collections.
Always attentive to the latest fashion trends, but without neglecting the passion for a classic style that is always in vogue, Gleni offers you a wide range of women's and men's bags, and leather accessories, high quality articles of prestigious workmanship, exclusively created by our experienced Italian craftsmen to satisfy even the most sophisticated and exacting customers.
From our beginnings, we were immediately interested in exotic leather as a symbol of luxury and intrinsic value, used to create items that retain their beauty despite the inexorable passing of time.
Exclusive and charming women's and men's handbags made of python, crocodile, ostrich and cocco Ligator: such is the wide range of products offered by Gleni.
You can find more detailed information about each type of leather used, by visiting our product pages, so that you can decide for yourself which product best suits your personality!
---
Below you will find brief descriptions of the many types of products that we offer our customers: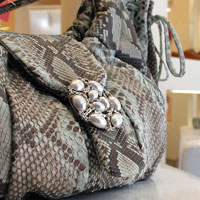 These are luxury items, always in fashion, made from a prestigious leather that is soft to the touch, long lasting and extraordinarily beautiful. A python handbag certainly bestows a wonderful sense of warmth and security on everybody wearing it.
For every personality and typology of woman however diverse her needs, Gleni has the answer, offering a wide range of handbags and accessories made of python, from which you can choose the one that best reflects your determination and sensuality: a handbag made to measure for each and everyone.
Let yourselves be captivated by the extraordinary smoothness of python skin and by the stylish designs of our bags, which are always very elegant and last a life-time!
---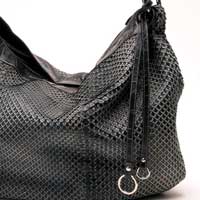 Take all the wonderful qualities of python leather and add very sober, classic and prestigious tonalities: of course you will be able to get an extraordinary bag that will enhance the personality and self-confidence of the woman wearing it.
Considered the perfect leather to express richness and refinement, anaconda is able to guarantee fantastic results with models of bag that suit every woman who loves the classic style that goes never out of fashion.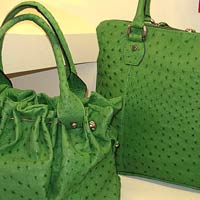 WOMEN'S OSTRICH HANDBAGS

This is a product of high quality and prestige, guaranteed to last for years. The leather used in production comes from the best Italian tanneries and every detail is well-finished with great care and meticulous attention. Ostrich handbags can be made in a wide range of colors, light or dark, depending on your personal tastes and requirements.

Visiting the page dedicated to this category, you will find out more about the remarkable qualities of this extraordinary leather and discover a range of stylish products, created so that you will look beautiful and attractive every day!
---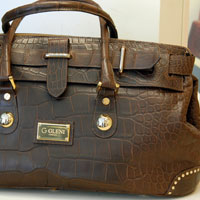 A line where nothing is taken for granted but where everything is pure prestige and extreme refinement.
These bags need no introduction as their prestige speaks for them. They offer refined lines, classic but very often original in coloring. The natural crocodile or alligator leather is very soft, adapting perfectly to the shape of the bag and the colors are attractive and fashionable but also very elegant.
Softness, elegance, resilience and beauty that grows with time: these are the qualities that those who love luxury and prestige will obtain from such a bag.
Discover for yourselves what makes these bags so special and so unattainable...
---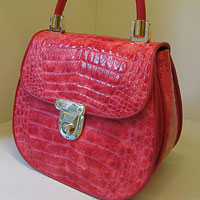 COCCO LIGATOR HANDBAGS

These bags retain the same glowing beauty of the genuine crocodile bag and the same prestige but at a more affordable price and so these bags are more accessible to many customers.
There are two different types of this leather: leather made by the 'Ligator' process and leather made by the 'Hornback' process. For more detailed information on the difference between Ligator and Hornback, you can visit the page dedicated to cocco Ligator handbags and discover for yourselves the fabulous beauty and elegance of these bags: a resounding success for their price and quality!
With these bags you can enrich your image with luxury and prestige at a really affordable price, not to mention the opportunity they give for you to contribute in reducing the impact on the animal species itself.
---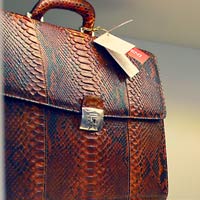 PROFESSIONAL AND TRAVEL LINE

This is a line of products addressed both to businessman and businesswoman, and to dedicated travellers who want to look the height of elegance wherever they are.
There are many models characterizing this line, from the simple brief-case to convenient professional bags and travel bags to wear on the shoulder, in case you only need a single change of clothes.
These items are made both in python and in genuine crocodile. Learn more about these products and we are sure that our professional bags will also win your heart for their elegance and extraordinary practicality and handiness.
The perfect product to always look elegant and fashionable even at work or when travelling.
---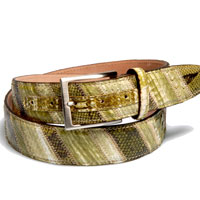 BELTS AND SMALL LEATHER ACCESSORIES

This is the other range of products that we'd like to present.
These are belts and wallets both for women and for men, made from prestigious exotic leather – python, ostrich and crocodile – to match the handbag of your dreams or as a combined set comprising belt + wallet. Take a look at these accessories and read all the finer details of these products in order to find just the right one to fit your taste and style
---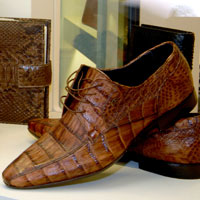 PYTHON AND CROCODILE MEN'S SHOES

A masculine look, whether elegant or casual and informal, can't be considered complete without the appropriate pair of shoes enhancing refinement and taste with high quality accessories.
So, entirely addressed to our male customers, here is our prestigious line of men's shoes made from high quality python and crocodile leather. Take a look at our models and choose between a classic or a more sporting style.
---
Everything you find in this section speaks of newness and elegance: the excellent quality of all the skins, the traditional craftmanship that takes care of even the most complex and technically difficult detail, the choice of styles which are both sophisticated and classic and the opportunity to create every kind of model, these are all fundemental strengths of our company.
THE MOST IMPORTANT QUALITIES OF OUR HANDBAGS ARE:
The elegance and the comfort of the designs, which guarantee our customers absolute elegance and practicality.
The high quality of the skin which guarantees that our handbags will last for years and years.
The making to order of a handbag according to the tastes and requirements of our customers, so they can create their own personal handbag, to set off their personality and make them feel special.
The absolute authenticity of every handbag and accessory, each of which is completely designed, made and finished here in Italy.
The guarantee that every bag is designed by accredited designers associated with the most important Italian fashion-houses.
The certainty that our handbags, because of the high quality of materials and their elegant design, will never go out of fashion, but will remain stylish and fashionable as the years go by.