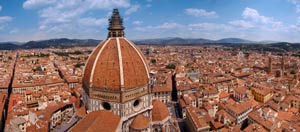 Even before the Renaissance of the 16th century, the medieval Italian craft guilds were renowned all over Europe for their luxury goods, especially in the field of textiles, finely worked precious metals, jewellery and leather. The ports of Venice and Genoa were at that time bustling hubs of international trade, bringing raw materials and precious stones to be wrought into luxurious cloths and richly embroidered materials by the skilled artisans and guilds of the Italian city states. These would then be sold to the wealthy nobility, royalty and church all over Europe. During the Renaissance, Italy emerged as the centre of a new wave of creativity, art, architecture, writing and philosophy and its artisans became master craftsmen and artists in their own right, as the demand for luxury goods and personally commissioned works of art grew ever greater.

This cultural heritage has always remained at the core of Italian being. Italian people today live surrounded by perfectly proportioned Renaissance architecture. Masterpieces by Giotto, Piero della Francesca, Botticelli, Leonardo da Vinci, Caravaggio and hundreds of other artists are right there in museums and churches, even in small towns and villages, as part of every day life. Italian artisans have never stopped producing top quality luxury goods, using the skills and expertise handed down from generation to generation over several centuries. Instinctive style is in the Italian genes.

Italy's reputation as a producer of luxury goods and quality fashion accessories grew internationally in the twentieth century. While Paris was considered the one and only centre of haute couture in the first half of the century, Italy supplied the sophisticated and top quality accessories to match. A fashionable woman's clothes would have a Paris label, but her shoes, handbag and luggage would be Italian.

After the second world war Paris gradually lost its monopoly over high fashion, with American fashion houses challenging its supremacy and offering more practical and relaxed alternatives to the modern woman. Italy's fashion designers first got major international exposure with a famous fashion show put on by Count Giovan Battista Giorgini in Florence in 1951, where several Italian designers were taken up by high-end American department stores such as I. Magnin, Bergdorf Goodman, and Saks Fifth Avenue.

However it wasn't until the 1970's that Milan really gained its current position as a major capital of international fashion. With Armani, Versace and Valentino, a clearly defined Italian style of fashion emerged, with Italian designers becoming known for luxurious and easy-to wear designs with a dynamic, urban and understated feel.

Today Italian fashion houses hold their own, as do the small and medium companies that continue Italy's longstanding tradition of producing quality craftsmanship and luxury goods. Italian style, innovation and creativity are the qualities that give the Made in Italy label a leading edge in the competitive world market.

Isabella Rossellini, the personification of Italian style herself, sums it up, when interviewed recently about her new role as ambassador for the Made in Italy label in the U.S.:
"Well, I think that Italy, for centuries, from the beginning of time had this incredible sense of style. You can see it in Renaissance paintings the way people dress, the clothes they wear, the art that comes from there.
When I think of Made in Italy, I think first of all of quality, the quality of the textile, the quality of the tailoring, the quality of the manufacturing. That is the real strength of Italy and then the great artists".

As she says, in Italy style is a way of life and life is lived in impeccable elegance and incomparable style.
Italy is famous for its fine traditions of craftsmanship, and has been the source of countless unique masterpieces over the centuries. Today this tradition remains a valuable asset, essential for the production of luxury goods, made to satisfy the most demanding connoisseurs. We aim to preserve the integrity of our Italian production, without compromising our high standards to market pressures, by employing the valuable creative strengths of our finest artisans, while maintaining a consistent quality control.
---
The Made in Italy label is one that brings with it an assurance of quality. A product that is Made in Italy has the time honoured traditions of centuries of fine craftsmen behind it, artisans that have passed down their skills over generations of the same family, with an innate flair for design, a tradition of top quality workmanship and materials and above all a love for their craft that shows in the exceptional quality of a true Italian product. The years of tradition provide a solid foundation but Italian design is also known for its innovative modern touch, adding the best of new trends and technology to create cutting-edge luxury products.