Our company is a keen supporter of the genuine 100% Made in Italy label, because we wish to guarantee to all our customers that the article they purchase from us is a true product of quality Italian craftsmanship. In this short poll, we would like to hear directly from you, what your expectations are of a genuine Made in Italy product and what significance this brand has for you.
Each nation has its own distinctive brand that characterizes its products and makes them stand out from their own kind: Made in Germany has always been synonymous with robustness and reliability; Made in the U.S.A. is the sign of  an innovative and avant garde product; Made in Japan symbolizes high tech and functionality; Made in Italy expresses excellence of creativity and craftsmanship.

In the field of fashion, Italy takes first place for the high quality of its own textiles and the perfect elegance and refinement that goes into making them up, as well as for the guarantee of quality materials. The whole world admires and trusts a product that is Made in Italy and many people are prepared to make huge sacrifices to be able to purchase an Italian branded article, which they will wear with great pride.

Recently the Made in Italy label has unfortunately been the victim of much counterfeiting by those who, profiting shamefully from the brand's prestige, use it on various kinds of products that are in no way Italian, products of poor quality and manufacture made for only a few Euros apiece (often by exploiting innocent children, who are forced to work for many hours each day) and which are then sold in local markets at prices that are certainly much lower than a genuine Made in Italy article

But what exactly does the 'Made in Italy' brand mean?

It means a product that is entirely made in Italy, from the design and working out on paper, up till the product is made, finished and ready for sale.
The Made in Italy name ought to denote the actual and total provenance and production in Italy of the article that bears its name; 'ought' because unfortunately in many cases this is not so.
In fact, many products can carry the Made in Italy name even when they are almost entirely made abroad!

According to article 24 of the European Customs Code  (Reg EEC 2913/1992), a product which has been made in two or more countries is considered to originate in the country where the final transformation or substantial work took place.
This means that if an article is produced 70% abroad and 30% in Italy (in the case of a handbag the 30% could correspond more or less to the attaching of the handles and the brand's logo) such an article could be labelled as Made in Italy. However even more shocking is that even an article that has been entirely produced abroad could bear the Made in Italy label, if it has been commissioned by a firm that is based in Italy.
What does all this imply?
Many Italian firms, some of the prestigious fashion labels among them, choose to move a large part of their production abroad, where labour is certainly cheaper but also less skilled, but where the same amount of personel employed to make an article costs much less, allowing a substantially higher profit margin.
Articles made for a few Euros in many Chinese workshops, where there is frequent use of clandestine, cheap labor forced to work at night in disgracefully unhygenic and inhuman conditions, without any social welfare or adequate remuneration, can then be brought to Italy, supplied with the label of the brand for whom these bags were made and sold in the best boutiques and shops at truly exorbitant prices.
By adopting these business policies the firms manage to show excellect annual returns, sales remain high because the product still counts as Made in Italy, but the production costs are very low. In this way it is even possible to lower the prices, making this product more commercial and accessible to a wider section of the market.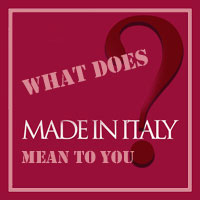 This situation can't help but penalize the small to medium companies that have been making a genuine 100% Made in Italy product for generations, and who would like to continue to do so, offering a clientele, who really appreciates Italian quality, a high quality product of true craftsmanship, completely made in Italy, with quite high production costs but with the daily satisfaction of guaranteeing a product embued with the true essence of Italy, of art and beauty.
Obviously the decision to keep the entire production process in Italy involves much higher management costs: the workers are professional artisans and, as is right, need to be well paid, and supplied with all the legal benefits and pension provisions; the machinery needs to guarantee a high level of finishing and so muct be regularly checked and replaced; materials have a certain cost which fluctuates according to the economic climate of the country.
Taking the leather industry as an example, it is estimated that a top quality handbag, produced entirely in Italy from real leather, can end up costing around 70-100 Euros in labour costs, as opposed to the 14-20 Euro that its production would cost if it was sent to Chinese workshops or other foreign contractors.
It therefore follows that these articles, which are 100% made in Italy, are sold at higher prices and so aren't accessible to everyone. Sales fall and many firms, overwhelmed by tax costs, and completely sustained and facilitated by the State, are obliged to close down, because of the impossibility of competing with the low costs of the Chinese market or with those who decide to put profit and wealth first, to the detriment of the quality and reputation itself of the Made in Italy label.
The ambiguousarticle24 of the European Customs Code  (Reg EEC 2913/1992),therefore leads producers of Italian goods to make a choice between two very different levels of quality in their 'italian' goods, a choice which certainly doesn't help the prestige of the brand, but on the contrary creates doubt and confusion in the mind of the purchaser.
Some decide to move their production abroad where production costs are lower or contract out the work to many Chinese workshops, often with low skills levels, where workers are obliged to work for just a few Euros a month without any form of social welfare or health provision, all in order to obtain a product that is far less prestigious in quality, not 100% Italian, but at a more economical price.
Other entrepreneurs, on the other hand, decide to keep the entire produciton in Italy, guaranteeing the best quality of materials, a select workforce that is highly skilled and completely Italian, and a product that is 100% Made in Italy, but comes at a higher price, because of the higher management costs of the business and the costs of the regulated employment of the workforce.
We are absolute proponents of this 'second business model' because we wish to guarantee all our customers an article that is a true product of Italian craftsmanship and quality, a product that is worthy of the Made in Italy name, but now with this short poll we would like to ask for your personal point of view on this matter
Is it right, in your opinion, to denote an Italian product with the Made in Italy label, when in reality it is only 30% made in Italy?

Is it correct to denote an article as Made in Italy, when it has been entirely made abroad for an Italian firm?

Is it right to penalize the small to medium artisan industries by making a 'Made in Italy' product that is only partly made in Italy, but which is therefore more accessible in price, just to increase sales and decrease management costs?

Do you think it would be a good idea to label products that are entirely made in Italy (from planning to finishing and sale) with a 100% Made in Italy badge, in order to distinguish them from other products that have been partly or totally produced abroad?
We warmly invite you to take part in our poll, so that we can get a better idea of your thoughts on this matter and understand what you really expect from a Made in Italy product, what guarantees you require from this brand and what value you put upon the Made in Italy label.