The word elegance is synonymous with good taste, with love and passion for things that are truly beautiful. Elegance isn't just to do with your look, it is an integral part of your way of life. It is important to know how to choose those things which represent and express our true selves and in choosing we need to take everything into account, even the smallest detail could make all the difference.


Bearing all this in mind we have created our new men's shoes collection, so that you can at last find the perfect shoes to go with your look. A pair of genuine python or crocodile shoes is a very classy and original product, reflecting the enormous prestige of the leather they are made with.
Both these kinds of leather are renowend not only for their beauty and originality that has always distinguished them, but also for their elasticità and warmth, making the shoes extremely comfortable and practical to wear.
Just think how wonderful it would feel to go out wearing stunningly luxurious shoes, which are just as comfortable and warm as are your favorite slippers, when you sit by the fire in the warmth of your own home! On freezing cold days who wouldn't want to be so lucky?
These are exceptional shoes that are perfect for men who are always on the move and who have to be out all day without a moment to relax: their lining of soft calfskin and their leather soles (or non-slip rubber soles) are especially designed for optimum comfort, so that your feet don't become too fatigued.
---
Every detail of our shoe collection has been carefully designed and finished with the utmost attention and love, so that it combines originality, class, elegance, refinement and prestige with just one end in mind: to create your ideal shoe, the one you have always dreamed of, but have never found up till now.
---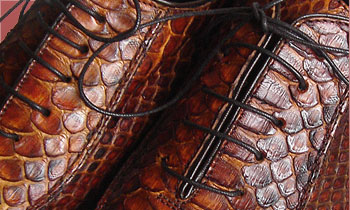 Our collection is available both for our wholesale clients and our private customers.
Wholesalers can send their orders via e-mail or through our electronic catalogue (www.gleni.eu) where all the models, their variations and prices will be on view. Private customers on the other hand can choose whether to buy a ready-made pair through our Gleni Boutique ( in which case please contact us through e-mail or live help so that we can make sure that the model you have chosen is available in our showroom in your size, and avoid you receiving a product that doesn't satisfy your requirements). We'd like to remind you that the sale of exotic leather products outside the European Union is regulated by CITES, which means that returning goods is a long and laborious process, which takes time, so that replacing the wrong size with the right one would be a slow business. Alternatively you can order your shoes in the model, color and type of leather you prefer, choosing the options step by step in our Craftsman Laboratory, in which case the product will be made to measure for you and so it will be easier to be sure of the exact size.
---
CERTIFICATE OF GUARANTEE: The artisan manufacturing company guarantees that this product has been made from genuine python skin that has been imported according to the international laws that safeguard species protected by CITES (Convention on International Trade in Endangered Species of Wild Fauna and Flora).
We'd like to remind you that all shoes made in genuine python skin which are being exported to countries outside the European Union, will be provided with a CITES certificate, a special document that certifies the origin of the python skin and all the processes and work that the skin has undergone. It also certifies the amount of leather that has been used to make the bag or shoes and is an obligatory document for the export of products made from genuine python skin to countries that are not part of the European Union.