The handbag took its place as an indispensible fashion accessory at the beginning of the Thirties, when it was perfect for setting off the elegant and curvaceous female form celebrated by the modes of the time. Its unquestioned allure lost ground however in the Sixties and Seventies, when the mood of the age demanded the practicality and comfort of more casual bags such as backpacks amd duffel bags.
Today  however, more than 70 years later, the handbag is right back in vogue. No longer considered just a fashion accessory to carry to a party or special event, it has become an integral part of every woman's daily life, the custodian of her most precious secrets, the place where she keeps everything she needs to maintain her beauty and charm.
Look into a handbag and you will have a glimpse into the life of the woman who owns it: her world, her style and her reality!!!
So the choice of a handbag is an important decision, to be made with especial care and patience, though sometimes it can be hard to find a bag that is truly exclusive and fine enough to complement your personality and femininity. So how can you set about this difficult task and find a bag that reflects your own individuality and style and which, above all, doesn't make you look anonymous, like a mere clone of the famous woman whose look you are trying to reproduce?
You would certainly get great pleasure from knowing that you are carrying a one-off piece, rather than bag churned off a mass production line that could be found in any of the shops in your town; just imagine the satisfaction of saying to envious colleagues, who admire your stunning handbag and ask where you bought it, that you had it made to order especially for you!
Just think of the pleasure you'd get from owning such an exclusive creation, one which suits your needs to a T, which is made to your own personal taste and moreover which makes you feel unique, not like the usual, non-descript products stocked by the down town fashion shops, which all look the same.
At last you'd have what you've always been looking for, a handbag which enriches you and enhances your own unique, elegant and unmistakable style.
When you're shopping for that special and 'distinctive' item, the Internet comes to the rescue....
How many handbags are there to choose from in the fashion shops in your town? And what do you do if none of them really inspires you, at least not enough to fall in love with one and want to buy it? Or if there's one that you like but its color is all wrong and won't go with any of your shoes or clothes?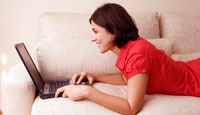 If you're about to despair of ever transforming your look, turn to the Internet for help!
The Internet lets you visit hundreds of handbag shops online from the comfort of your sofa at home, while you relax with a glass of wine or a cup of coffee. More than just a relaxing and fun way of passing the time, this is actually a very worthwhile activity as you can weigh up all the pros and cons calmly and at your own pace, without having to face the choas and crowds in the mall or spend hours stuck in traffic.
---
Six good reasons to purchase handbags online at least once in your life
You'll have far more choice and more time to consider your purchase;






You can view all the handbags you want without anyone bothering you or trying to influence your choice in favor of one bag over another;


You can visit many more fashion shops online than you could in a mall and compare prices and quality. You'll be amazed at the number of online fashion shops that offer prestige items at really excellent prices.

In one hour you can visit a number of shops that it would take you days to go round in real life, so you'll have more free time available for yourself and your hobbies;

You'll have access to shops in far away countries, which you would never have thought of visiting on holiday, giving you fantastic shopping opportunities that would otherwise never have come your way. Thanks to the internet the whole world is at your fingertips!!!

Online shops are open 24/7, so you make online purchases whenever you feel like it, without the restrictions of the normal opening hours of bricks and mortar shops and boutiques.
The risk involved is no greater than if you are shopping in your nearest shopping center, but by purchasing a handbag online you have far more choice and more time to consider your purchase. There's no hurry whatsoever. Decide in your own time, get answers to all your questions and when you are finally ready to go ahead ...go for it without any second thoughts!!!
The only possible downside of online shopping is that when you're making online purchases you can't physically touch the product, but this is less of a problem when purchasing handbags online than it is with buying other fashion items like clothes, as there is no need to try on a bag to see if it fits you.
You can make your online purchase knowing that your handbag will be made in the country you've ordered it from, something that isn't always true when you buy a bag in a shop down town, where a handbag might have a Made in Italy label even though it hasn't ever been within a thousand miles of Italy! You may be lucky enough to have a local shop or boutique that you trust for the integrity and quality of their products, but they may not always have what you are looking for.
Nowadays you can get out of this vicious circle thanks to the Internet, which gives you the chance to make online purchases at your leisure, once you've had plenty of time to weigh up the many bags on offer.
Many women rely on online fashion shops  these days, finding the Internet a secure and efficient shopping method that suits their busy life-style. If you work all day in a high-powered job, the last thing that you want to do at the end of the day is plunge back into the rush hour traffic to reach a busy mall or shopping center, grab the first half-decent thing you see, all in a hurry because the the shop is about to close, the lights are being turned out and the assistant is hovering by the door waiting to lock up. You'd much rather go straight home and have time to spend with your friends and family.                         
We are confidant that once you have tried shopping online you'll find it so useful and full of advantages, that you'll wonder how you ever managed without it.
---
What amazing advantages do I get from shopping online for a handbag?

You will finally be able to get your hands on an exclusive handbag made in the color of your choice, your dream bag delivered to your door.
Every day people will ask you questions like: Have you been to Italy? But when did you go to Italy? Where on earth did you manage to find such an elegant and well-finished handbag? And you'll be able to answer quite naturally, with quiet pride and satisfaction these countless proofs of the success of your purchase, your prize of a handbag, whose quality you certainly wouldn't be able to match in any of the shops in your town, not even in the best of them!!!
If one of your colleagues whispers rather enviously in your ear:
"Well it's easy enough for you to look gorgeous and fashionable when you've got accessories like that! I bet I could be just as charming and sexy as you, if only I could afford a trip to Italy and spend all my time cruising the designer boutiques in Rome, Florence and Milan to get myself some real Italian bags"
don't tell her where you bought your handbag, but rather be clever and introduce your friend to us as a potential future client, so that you'll get a special discount on your next online purchase. Because once you've experienced one of our top quality handbags, there's no way you're going to stop at buying just one!!!
---
Are you ready to try purchasing your first handbags online? You bet!!!!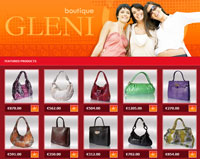 Why not start this "fabulous adventure" by choosing your handbag in our Gleni Boutique. We've selected some truly original and unique bags for you, in stunning, cutting-edge colors, which will make you feel special and confidently attractive. These are exclusive handbags, completely hand-made and not to be found in the average leather shop, which convey a sense of prestige and luminosity to the woman who carries them.

If the  handbags in our Gleni Boutique don't quite match your requirements or there's a bag that you can't resist but would prefer in a different color, you can go to our other online shop, the Craftsman Laboratory, where you can order the model of bag that you like, personalizing it with your own choice of leather and color.
You'll need just a little patience to buy one of our custom made handbags online, as they are completely made by hand and require 40-60 days to complete, but rest assured that your handbag will be worth the wait: prestigious, elegant, classy and exquisite, a handbag made exclusively for you, perfectly expressing your individuality and self-confidence as an independant woman.
---
If you are really tempted to make your first online purchaise, driven by the many advantages that this kind of trade offers, but you have still some doubts to be dispelled and, above all,  if you are still afraid of paying online with your credit card, we strongly invite you to read the following page where we have written  3 important suggestions that each customer should carefully follow in order to conclude every online purchase successfully, without the slightest risk of being cheated or robbed.