How can we warm up on a freezing cold winter's day? It's simple... just let ourselves be embraced by sinuous and soft exotic leather, but we should also pay attention to choosing the right colour for the accessory that we decide on, so that our bag can always be at our side!
If you want to avoid your precious handbag being left sadly in your wardrobe for too long at a time, here is the new Gleni collection for the coming winter season 2012-2013, offering all the elegance and classicality of sober and neutral colours, suitable for all ages and any occasion.
Analysing the trends proposed at the recent fashion shows, warm and calm shades, above all in a matt finish, seem to be the Must of this season, contrasting with those vivid and more jaunty colours chosen in past years to face the freezing cold.
---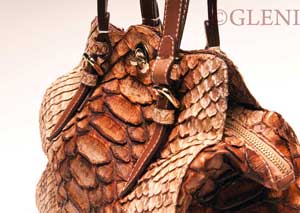 So, let's put aside the brighter colours (especially combinations of them) and focus our attention on the infinite warm and protective nuances of brown; yes, because brown will be the star of this season, in its thousands of different variants, from light beige to brown so dark it is almost black. Shades such as caramel and mustard will be greatly in fashion but always with a hint of brown in them.
And while calmness and sobriety are dictating the rules, polished or lacquered finishes are not to be thought of:  most of the new winter colors are shown in a matt finish that,  especially on python skin, contrives to further enhance the velvety and sinuous aspect of this exotic leather.
As regards python, the typical winter colours, such as red and black, can't be ignored: really classic shades that, when combined with the right accessory and embellished with details and careful finishing, become an expression of undisputed elegance and refinement that is completely timeless.
Another important  trend is the return of grey, presented this year in its Roccia version, that is in a mix of lighter and darker shades – and combined with other shades such as violet/burgundy or forest green.
For the holiday season, you certainly can't get by without a more sassy and sparkly accessory: Gleni proposes two very innovative and contemporary new shades of Gold and Silver . The gold and silver are not uniform over the whole skin, but allow glimpses of  a matt white base that, contrasting with the metallic finish of these two colours, creates a really attractive visual effect.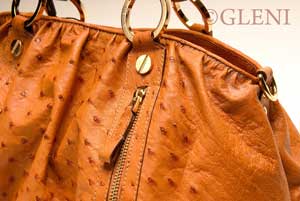 Ostrich leather, much prized for its exceptional softness and versatility, conveying a message of absolute prestige and undisputable luxury, and the accepted badge of class and elegance, is proposed anew in classic shades of hazelnut, caramel, cognac and terracotta.
Of course, even dark colours have their place, going from plum to bottle green or to burgundy red, giving the option of varying the usual selection of colours in your closet.
However, the real news in the ostrich range, is the creation of special colours, such as Ivory, Champagne, Antique Gold – proposed in an unusual satin effect: these light shades with their metallic finish perfectly capture and reflect the sunlight in a way that won't go unnoticed.
Just as rich and varied is the new crocodile colour chart which, although keeping its classic line, varying from whisky to mustard, from chestnut to dark brown, without forgetting scarlet red or the more alternative sky blue, is always impeccable, further enhancing the prestigious luxury of this genuine exotic leather.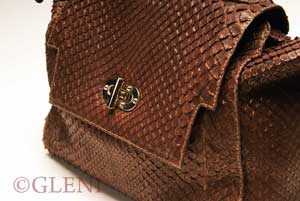 The big news of the season has to be the addition to our range of leathers, of a type of leather we have never dealt with before:  anaconda.
As soft and delicate as python skin, anaconda leather is characterized by the homogeneous distribution of small scales all of the same dimensions, over all the leather surface, creating a sort of geometrical effect with all the elements perfectly wedged together.
Because of the valued and much sought after nature of this leather, which suits those with a strong character and determination, who love of simplicity and elegance (in the full sense of the word), we decided on a selection of shades that are equally simple and neutral, communicating the self-confidence and respect of all those who decide to wear this kind of leather.
The anaconda colour chart is, for this reason, specifically focused on brown-hazelnut tonalities, only varying in shades or undertones: from cognac to dark brown, to dark ash grey enlightened by gold nuances enhancing the scales.
Really interesting and much appreciated is the darker version of anaconda leather: this black shade is actually not homogeneous but shows some intense nuances, creating an "aged effect", further enhanced by a semi-shiny finish.
These are the new Gleni proposals as far as color is concerned for the coming winter season 2012-2013: have fun choosing!