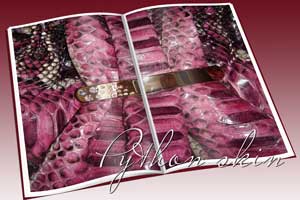 In our python handbags section, we demonstrated the extraordinary qualities of genuine python skin, its absolute prestige and elegance, its softness and above all its guaranteed durability. This natural skin is perfect for making any model of handbag, from classic to the most innovative, because it is a leather that never goes out of style.

But, as you can see here below, there's more than just one kind of python leather that we can manufacture your handbags with; you are free to choose from five different varieties of genuine python skin:
Are they five different python skins?
What is the main difference between all these "python leathers"?
We would like to explain what we mean by trapper python skin, indio python skin, millennium python skin, cosmo python skin and decolored python skin, in order to help you to choose the kind of python you like most and which best suits you and your personality
Before introducing our five varieties of python, we would like to emphasise a very important point:  These top-quality genuine python leathers all come from just one type of python skin called Python Reticulatus.
The difference between them comes from the various coloring processes these leathers undergo. Some of them are more expensive because the coloring process is very long and in some specific points, the skin is hand-painted to enhance its natural shadings and designs.
This prestigious leather is available in a wonderful variety of the latest colors. One color is applied for a soft but intense depth, allowing the natural designs of the python skin to show through and take on gradations of the color. This coloring process gives you amazingly elegant python leathers at a very affordable price.

Our genuine python skin can be either glossy or matte. Glossy leather gives the handbag a more fashionable look, making the item itself modern and stylish, perfect for a young woman who loves elegance but also wants to keep up with the latest fashion trends. Shiny colors enhance the leather design, creating a more evident contrast of tonalities. Colors are certainly brighter and more vivid if the handbag is made from glossy trapper python.
Trapper python skin comes in a wide variety of colors, from the lightest pastel shades to the strongest and brightest tonalities, so you will certainly find your favourite color among them, and can select the perfect color for your new handbag. It encapsulates this year's latest fashion trends, combining exotic leather with definite colors to make stunning, up to the minute handbags.
Trapper python skin is considered one of the most beautiful exotic skins thanks to its absolute refinement , its wonderful tonalities and the extreme softness of the leather itself. One further attraction is that the price is really affordable, much cheaper than our other kinds of python skins, though the quality is identical.
N.B
.: We'd like to remind you that the color of the handbag you receive at home, may not be identical to the color of the item in the picture, as all our products are hand-dyed and each leather absorbs the color in a different way, creating some variations in the intensity of the color itself and guaranteeing that each bag is unique.

Rock

S2

S5

Dark brown

Green

Red

Sky-blue

Black

Burnt

Blue

Gray

Walnut

Rose

Dark Green

Sottobosco

Olive

Agrumi

Panna
A hand-painted masterpiece, each python skin is skilfully decorated with at least three different shades of color, which highlight and enhance the natural designs of the python skin, to create an exceptionally elegant, luxury leather.
To obtain this particular effect, the skin is hand-designed with a special brush and then hand-painted, leaving the natural patterns of the python skin highlighted in white.
.
Some special color shades have been added this year to give this wonderful indio python skin a further touch of absolute prestige and refinement. Each hand-colored skin, every design, is completely different from the next, as each stage of the coloring process is carried out by hand, so we can assure you that every handbag is an original piece. You won't ever find another bag quite the same as yours.
This intricate technique requires artistry and takes time, which is reflected in the higher cost of the leather.


2006 / 59

2006 / 61

2006 / 6064

2006 / 101

Orchidea
This leather is first colored to a soft neutral shade and then enriched with gold streaks and highlights, to create a very elegant leather suitable for sophisticated evening bags and handbags for special occasions. This subtle coloring technique takes time, which is reflected in the higher cost of the leather.
Millennium python skin is very soft to the touch and when you stroke it gives a pleasant sensation of lightness and harmony. It feels like soft velvet, and is elegant and prestigious enhancing your look and your femininity. When you are wearing a millennium python handbag, people can't help looking at you with admiration, because you really appear special and extremely sensual.
This leather is uniformly colored with the pure metallic shades of gold or silver to make your evening bags and purses more elegant and sensual, like precious shining jewels. These metallic colors will complement and enhance your elegant dress on the occasion of a special event or a particular ceremony, where refinement and quality are a MUST. With an elegant handbag in this gorgeous leather you will appear extremely beautiful and attractive.

Gold

Argento
This is a very soft python skin, which undergoes a special decoloring process. That means that this python skin is deprived of its natural shades to assume an homogeneous color which can be WHITE or CREAM. The color is unique, and this gives the handbag or the accessory a further touch of elegance and refinement at a very affordable price.

White

Cream
Each one of our python leathers is a very soft leather of extremely high quality, and is personally hand-crafted in the very best Italian tanneries by our experienced and skilled Italian artisans, following the traditions of genuine Italian craftsmanship, which gives it the unmatchable style that comes from being 'Made in Italy'.

If you would like to buy a very prestigious and high quality genuine python handbag but you don't want to spend too much, we suggest you look at buying one of our trapper python bags and choose your favourite color from our wide selection of available tonalities.

On the other hand, if you would like something special and unique, a bag which nobody can help looking at with admiration, a product that is much more than just a simple handbag but that expresses an important part of yourself, and you can afford to invest the amount of money needed to purchase a really exceptional handbag, then you should choose among our Millennium or Indio python leathers, the absolute expression of pure prestige and originality.

Every bag made in genuine python skin comes with a CITES certificate, a special document that is proof of the provenance of the python skin, the work processes and every stage of manufacture that it has been through. It also guarantees the quantity of leather used in making the python handbag and is an essential document to export python goods to countries outside the EU(European Union)