After our intense study, research and selection, appreciably influenced by the most important leather fair in the international panorama – Linea Pelle – which is essential to producers of our calibre, it's with great satisfaction that GLENI unveils our new range of python leather colors, which, according to personal tastes and preferences, will brighten the spring-summer season 2013 and beyond.
Obviously, because these colors and shades are directly chosen by us, according to our personal tastes, many other colors may be added  from time to time, so we suggest you visit this webpage regularly to be updated on the latest new shades.
At first sight, what is striking in this very new range of colors specifically conceived for the next summer season, is the sensation of harmony and refined elegance surrounding it: the idea is to create a collection suitable for the high-class woman, with delicate and refined features but who, however, doesn't neglect those cheerful and joyful shades that are pure summer.
So, here is a wide range of pastel tones, from lilac to primrose, from emerald green to raspberry red, available both in a glossy finish and in a special matt-gloss finish, perfect to further enhance the naturalness and the genuineness of python leather.
Accompanying this line of good taste and harmony, there is the glorious return of a light grey color tending to Roccia, but with some original innovations to give it a completely new and attractive feel: pastel colors in fact, are supported by a special category of python with a matt grey base, but illuminated by light streaks of color over the whole surface, while the darker areas defining the natural animal design are enriched by skilful hand painted splashes of color, from electric blue to fuchsia, from strong yellow to orange, almost producing an airbrush effect. Another proof of how the elegance and the quality of the material, even when combined with young and vivid elements, always retains its characteristic refinement.
For lovers of more classic and less showy shades, we have reserved a section of quieter colors, from birch green to aloe turquoise, and the new sunset shade (a combination of subtly nuanced light blue and salmon), to use for making handbags and accessories that won't be affected by the passing of time and changing of fashions, but that will always remain current and pleasing .
---
IN DETAIL "SPRING-Summer Season 2013:
What kind of summer would it be without cheeky and cheerful colors to accompany you day and night? Here is our first Lollipop python line: soft colors that are at the same time youthful, to make both mothers and daughters happy. It is a line of fresh and vivid colors that almost tempt us to taste them, as if they were delicious lollipops: these tonalities, further enhanced by the glossy python finish, aren't crisp and definite, but rather create an almost faded effect, where the texture of the animal is not clearly defined but everything is mixed almost creating an homogeneous tonality. Colors belonging to this line are: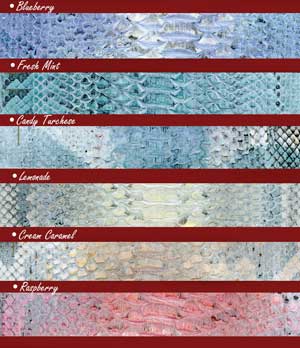 Blueberry: as if freshly picked from a bush, this blueberry color is most intense in the section of python with smaller, uniform scales, while larger scales show lighter splashes of color, tending to Roccia, enhancing the visual effect created by the scales themselves that tend to naturally open;
Fresh Mint: fresh as mint, this color goes perfectly with wide, capacious handbags, that go well with this elegant shade, which tends towards turquoise, slightly darker where the python scales become larger and open naturally.
Candy Turchese: still part of the range of light blue colors, this wonderful Candy Turchese will be appreciated by all lovers of new and eye-catching trends. The base is an almost homogeneous simple but youthful turquoise alongside lighter brushstrokes tending to Roccia grey, while a very light fuchsia finish creates special plays of light over the whole surface.
Lemonade: how can we do without refreshing lemonade on hot sunny days? And to relieve your thirst, Gleni has enriched its range of colors with a vivid and joyful, but not too garish color: in fact, the pastel yellow characterizing the scales fades to a sort of beige at the far edges of the leather, where the scales are smaller and rounded.
Cream Caramel: a simple and delicate Caramel shade for wide and comfortable shoulder bags, without forgetting practical evening clutches for a dinner or an evening with friends. The fresh and delicate color goes perfectly with any look that you want to go for.
Raspberry: for lovers of vivid, joyful and cheeky tones, this is the perfect solution. An intense raspberry color with a glossy finish to make everything more intense and accentuated... in all, a color that embodies everything you would expect from a summer collection.
---
Still on the theme of pastel tones, delicate and easy to mix and match, for fresh and bubbly summer evenings, here is the second line of colors proposed by Gleni for python: "Glacial"; it comprises six shades that, while simple and delicate, still communicate that joyful and festive spirit typical of summer, thanks to the light pastel shading that goes perfectly with a Roccia colored base. This is a line comparable to an ice-lolly with swirls of really fresh color under the surface ... there is a color for every personality...you have only to choose the most appropriate for you. The following colors comprise the "Glacial" line: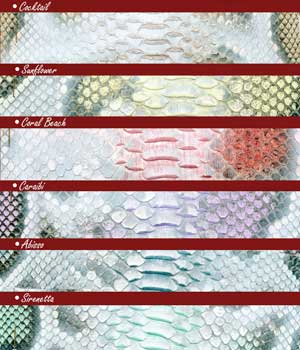 Cocktail: a perfect shade to look elegant and refined from morning to evening, this delicious color recalls the nuances of sand, reproduced on the smaller and regular python scales and, above all, accentuating the extremities of the wider scales and creating a particular visual play with the light grey base.
Sunflower: energizing with an almost fluorescent touch, this pastel yellow tonality muted by a light grey, will enchant even lovers of classic and less innovative tones in its matt version. Some brushstrokes in dark grey surround what in origin was the natural texture of the animal to enhance the typical sinuous aspect of this leather.
Coral Beach: an intense coral red muted and made wearable even for lovers of a classic style, by a Roccia base that defines the side sections of the leather in an unusual way. A play of nuances makes the line of the animal's belly irresistible too, where the scales are wider and tend to open naturally. In fact, these raised scales show a surround in the same coral shade as the rest of the leather.
Caraibi: vibrant and joyful just like a Caribbean landscape, this color adds to a matt grey base, a lilac shading in alternating areas around the smaller, rounded lateral scales, and along the edges of the larger scales in the central sections, for a jaunty effect that will even win over those who prefer a sophisticated style.
Abisso: as infinite as the nuances of blue seen in the deepest abysses, the shades in this color are many and varied thanks to a special coloring process the leather goes through. Passing from intense turquoise to light blue, then light grey, in its matt version, this color reproduces in a very elegant and restrained way the typical exotic aspect characterizing python leather.
Sirenetta: What woman wouldn't like to be lulled by the soothing and enveloping waves of the sea like a mermaid? And, it's to this fantasy that we have dedicated this superb tonality recalling the nuances typical of a mermaid's tail. On a prevailing grey base, emerald green brushstrokes are to be seen, more fluorescent on the central scales, paler and more delicate on the lateral sections of the leather. The perfect tonality for the contemporary woman who likes to wear original and innovative colors, but always with elegance and style.
---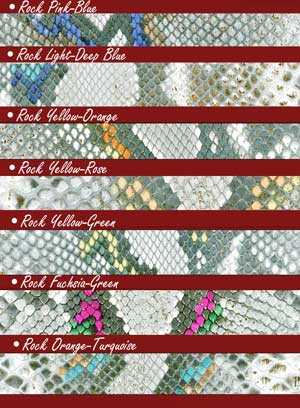 A more classic and sober line, is specially selected for women who aren't comfortable wearing vivid and showy colors: the result is the third line of python, called "Rock python" recalling the typical Roccia tonality (a mix of many tonalities of grey, from the lightest to the darkest), combined, however, with subtle strokes of hand painted streaks to create an airbrushed effect: everything is then enhanced by a very light finish in metallic gold that is clearly visible only when the leather catches the light. For this line, we have used the Front-Cut of python, that is the section of leather with small and even scales, to simplify the hand application of the many shades that, with the different nuances of grey, enhance the natural texture of the animal.
This line is composed of 7 tonalities distinguished by the combination of streaks hand applied to the leather:
Rock Pink-Blue;
Rock Light-Deep Blue;
Rock Yellow-Orange;
Rock Yellow-Rose;
Rock Yellow-Green;
Rock Fuchsia-Green;
Rock Orange-Turquoise.
---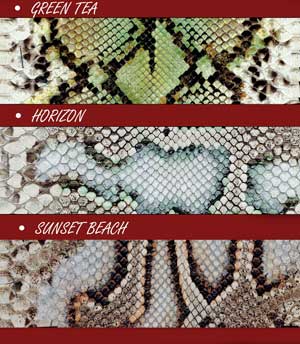 For occasions where class and elegance are de rigueur, we present three further python colors especially conceived for an important event, where formal dress codes prevail and sophistication and glamour are essential.
Green will be the star of the spring-summer season 2013 and we are giving you the option of choosing between a matt version and a shiny version: we are referring to Horizon python color – a dark grey base with roundish effects and irregular shapes in a mix of emerald green and turquoise; while quite homogeneous as a whole, this tone creates a fantastic visual effect with a simple and delicate profile. On the other hand, if you love more decided and definite tonalities, an accessory in Green Tea python is a must for your wardrobe: a fantastic vivid grass-green shade, further enhanced by the shiny finish of the leather. What creates the sinuous aspect typical of python leather is the dark brown brushstrokes denoting the natural python design, while wider and lengthened scales are shown in Roccia tonality.
The fantastic Sunset Beach color encapsulates all the nuances of a romantic sunset by the sea: a dark grey base is mixed with a shaded light blue with salmon-pink streaks, the typical landscape of the last rays of sun reflecting on the ocean.
---
If you like being well prepared and ahead of the crowd, start looking through the models of handbags or accessory you'd like to have made in one of these newest colors for next spring-summer 2013 ... and we invite those needing suggestions or answers to their requests, to contact us via e-mail at gleni@gleni.it
If you want to compare the new color collection with the python shades that were the uncontested stars of the 2012 spring/summer season, click here: http://www.gleni.it/spring-summer-python-colors-2012.html