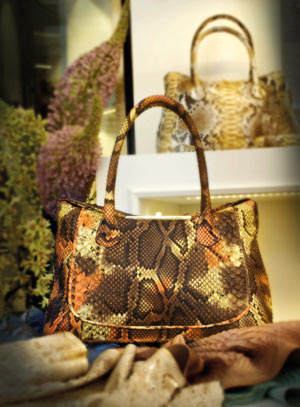 When conceptualizing the new Gleni collection, the company has mainly focused its attention on satisfying the many different tastes and requests of its devoted customers, creating various different styles and models to satisfy their needs without losing any of Gleni bags' renowned natural prestige and refinement. A restrained elegance, which preserves its beauty despite the passing of time, for a classy and chic woman: this is the fundamental concept of our company's philosophy.

We have also spared a thought for our younger customers taking their first steps into the world of luxury and high-quality accessories, understanding the value of exotic leather: it's with them in mind that our designers and artisans have created models with original and jaunty shapes in lively and audacious colors.
The new Gleni collection is characterized by four main lines:
The "

Essentia

l" line that contains those models that every woman's wardrobe should include, just because they are essentials! It's a line created for those women who prefer quality and meticulous attention to detail during the production process, to the trendy accessory that lasts for just one season: it's a top quality artisan-made handbag that will never go out of fashion. This "Essential" line is specifically designed for women who love to look refined and elegant wherever they are or whatever they are doing, choosing a model of handbag to enhance their style, assuring them of comfort and luxury even after many years. These models are classic and, for this reason, always fashionable; the perfect choice for the woman who considers her handbag not merely a simple accessory but her most faithful friend and who wants to share with it all her most sensational experiences over the years.
The "

Femininity

" line highlights the class and elegance of a woman even in a simple and linear style: less in the way of frills and exuberance but more room for comfort and practicality. This line includes maxi bags, professional bags and totes with a simple, essential design, perfect for the business woman, out and about for work or a mother with small kids: these are all designed with spacious internal compartments to keep everything in absolute order and plenty of external and internal pockets that make it easy to find your personal things when you need them.
If you like dynamic accessories, that go well even with a casual look, the "

Easy Chic

" line is for you. Original both in style and color, it offers delicious designs that, as always, are distinguished by the quality of leather and manufacture. The models belonging to this line have been designed to capture the heart of the woman, astonishing her everyday with new emotive details such as a different shading created by the sunlight or original stitching or, just their multiple ways of being worn.
The "

Royal

" line has been conceived for women who love to show their class and refinement during everyday life, highlighting it with items that, besides the prestige of the exotic leather they are made of, are enriched with decorations, charms, elegant laminated effects but also pendants and many other accessories that raise their  sophistication and glamour to the maximum levels.
Colors will be varied, according to the style of the bag itself, but all will be absolutely fresh and extremely refined.
However, while the shades characterizing both the ostrich and crocodile leathers are for the most part classic and delicate (even though strong sweeping colors will still be present in our collections), the new colors proposed for the python line, are an explosion of energy and luxury. The new shades proposed, in fact, have been created to enchant the observer, capturing her attention, thanks to the use of contrasting shades mixed together or plain shaded colors enriched by metallic streaks, especially around the front sections of the item itself, where the scales are larger. Those who love a more moderate style, will find loads of brown, walnut and mud, to keep to the classic style that never fades.
Are you curious to see the next Gleni handbag collection in detail?
Subscribe to our RSS FEED if you wish to keep up to date in real time about all the news concerning the imminent presentation of our new lines of handbags and accessories and, remember always to keep an eye on our Gleni blog because ... surprises never end with Gleni!
surprises never end with Gleni!!!!