The 2011-2012 season, as we saw during the latest European fashion weeks, is mainly  characterized by the return of color, of strong shades that add character to our look, giving a well defined image of ourselves, perfect in every detail.
We have seen many world famous designers presenting dresses in red or electric blue, emerald green or yellow on the catwalk, with an almost  blanket ban on those shades of gray and black, which, despite their classicism, no longer play a central role in the world of luxury fashion.
Strong and sometimes unconventional colors such as fuchsia or acid green seem to have gained ground over classic colors, even as far as the fall-winter 2011-2012 collections, shown some months ago, are concerned, going to prove that this year fashion rhymes with color.
Here at Gleni, where we have always been dedicated in studying the latest fashions and trends, to guarantee you a product that combines luxury, elegance and modernity, we certainly couldn't remain indifferent to the wonderful colors of this 2011-2012, so we have worked hard over the recent months to create stunning new python shades that fit perfectly with the latest fashion trends, but retain the characteristics of elegance, softness and strength which have, for many years now, made our python products real masterpieces  of fine Italian craftsmanship.
Our company, this year, has decided to present our new 2011 bags and accessories collection simultaneously with the release of many of our new python colors, some of which, in line with the latest trends in fashion, are very bright and certainly capture the attention, while others are much more delicate, pastel shades with a glossy finish or, if opaque, they are enriched with metallic streaks, or have a pearly effect.
All the new colors, however, have a really exclusive and attractive quality that will enhance all your outfits, making your accessory modern but stylish, trendy but refined.
---
Well, what are these new python colors, conceived and created this year by all the members of Gleni staff especially for you, to satisfy your desire of always looking the ultimate in elegance and refinement, while keeping up to date with fashion trends? Let's look at them in detail!
Among the most IN colors this year, staying on theme with strong and captivating colors, a prominent position is taken by the aptly named Shocking Python in its "tropical", "spring", "autumn" and "earth" variants.
This variety of python is named for its special coloring process where the leather assumes a variety of very bright colors which, though seemingly contrasting with each other, once joined together, create a vibrant energy that shocks the human eye in a positive way. As already indicated above, Shocking Python is available in four different colorways: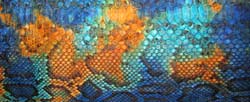 "Troppical", is characterized by a union of orange, turquoise and electric blue, the typical tonalities characterizing the marine species living the tropics, which, thanks to their many different shades, light up the darkness of the ocean depths;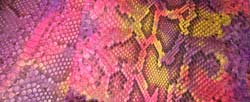 "Spring", on the other hand, is a tonality referring to the bright colors of nature in its most beautiful season, that is spring. Fuchsia brings to mind the color of blossom on the fruit trees that fuse into the strong yellow of sun, while violet evokes in our minds the first field flowers timidly appearing in the grass at the blooming of this beautiful season;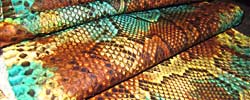 "Autumn", as the term itself suggests, is created from the union of three typical autumnal colors: the brown of the earth, the green of the moss in the woods and the yellow of the leaves on trees and cascading to the ground. The combination of these three typical "warm" colors make the "autumn" shade perfect for all those women who like to stand out with strong and decided tones even in winter, while retaining all their elegance and refinement, because this color, although very dynamic and striking, goes perfectly with everything, so you appear trendy and absolutely fashionable throughout the next winter season.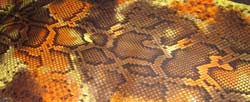 "Earth", like our autumn tonality, is mainly focused on the colors of the earth during the very cold winter days: the dark brown of almost naked trees, the yellow and orange of dried leaves carpeting the ground. Unlike Autumn color, the variant earth looks restrained but it certainly is not lacking in elegance and sensuality.
---
You don't like overly fluorescent colors and prefer single shades which are bright and vibrant?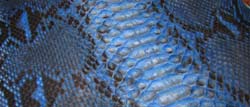 In this case, pay attention to our deep blue Raffaello python,  very soft and scaled to the touch, where wider, rectangular scales are masterfully alternated with smaller, round ones. Everything is further embellished by the wonderful deep blue color, a tone of intense blue with a matt finish which seems to lighten where scales are larger, showing some white streaks. Here too the natural python design is enhanced by black streaks.
On the other hand, if you love a strong, vibrant color, that is perfect in any season and with any look, we suggest the new Lobster tonality, a very trendy and youthful color that, despite its harmony, will really get you noticed. Its matt finish, only partially highlights the light brown streaks on the leather, designed to reproduce the natural typical python design. So, if viewed from afar, your bag will look as if it is a solid color, while a more careful look will pick out the subtle darker accents conferring more verve and glamour on your handbag.
---
The other big news of 2011 concerns the birth of another kind of python, Shiny Pearl python, which we named for its shiny finish with a pearly effect, and characterized by the union of several tonalities skillfully blended to create an single but intense color rich in shadings and delicate brushstrokes.

The Shiny Pearl Python, like the Shocking python, is also available in four different colors: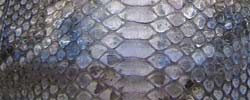 "Sunset", created by the fusion of sky-blue and lilac, is the typical tonality of the sky at  sunset, when blue mingles with pink streaks, creating a really special and romantic atmosphere, above all if we look at it sitting on a bench by the sea or lake;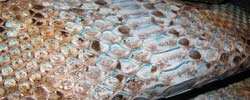 "Storm", named because it recalls the typical colors of the sky just after a summer storm, when, as soon as the rain stops, the grey starts to changes to blue and the sky, still covered by dark clouds, has yellow highlights where the sun shyly peeps through lightening the atmosphere;
"Smoke", a tonality perfect for any season thanks to its sobriety and to its perfect wearability. Created by the union of grey, white with blue brush strokes and brown-black streaks, designed to define the typical python design, this color, like the others belonging to its category, shows a shiny-pearled finishing. It is really very elegant and suitable to every classy woman, refined but not old-fashioned, restrained but not anonymous;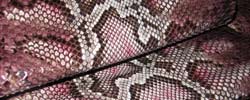 "Cherry", is a predominantly spring-summer color bringing to mind the pinky-red of the beautiful cherries on the trees, with eggplant brush strokes and pearl-grey finishing perfectly reproducing the natural design of the exotic leather.
---
Do you like restrained colors but are looking for something really special, perhaps linked to an exclusive python coloring process?
Then you'll be thrilled by our "Python Design", named thus because the leather is dyed with a special technique as if drawing circles of color on the leather itself which, in contrast with the very delicate and homogeneous base tonality, creates a very intriguing optical effect.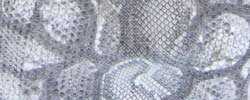 This type of python is available in two variants:
Grey (the base is pearl grey with white streaks and the circles are a medium grey);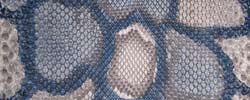 Blue (the base is light grey with sky-blue streaks and the circles are a bright blue)
but both of them are so subtly shaded and neutral that they can be worn perfectly well at any time of year, in summer and in winter,  without interfering in any way with the colors of your clothes, being themselves the result of several shades skillfully blended.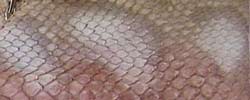 A similar effect to the one created by Python Design, even though a little more elaborate thanks to the presence of more different colors, is also proposed by "Python Country" in the delicious land color: a refined union of beige, antique pink with light beige brush strokes outlined by brown streaks. We decided to call this tonality "land" because it reminds us of the colors and smells of the natural country landscape on hot summer days, even though these shades can even go perfectly with a more typically winter look, given their elegant sobriety.
---
Do you need classic elegance and so you are looking for a neutral, very delicate color to use for your handbag or your python accessory?
In this case, we suggest you focus your attention on two very refined and simple shades which are at the same time really involving: panna and sparkling.


Panna is the classic light beige with darker brown streaks to enhance the natural python design, while sparkling is also a very restrained and delicate shade but, unlike panna, sparkling, as the name itself suggests, reveals a shiny pearled finish that gives it sensational ivory-beige nuances.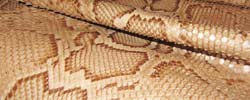 Sparkling, like panna, is one of the colors we consider "a color for all seasons" because, being a neutral color, it is perfect to wear in any season, given that its extreme versatility allows it to go with any other shade, whether classic or bright and original without any problem.
As already announced here above, in conceiving the new trendy colors for 2011-2012, we have not only focused our attention on the brightest tonalities to choose in summer as being more suitable for the warm weather, but we have also given thought to more typical winter colors which are just as pretty and delectable as the summer ones.
---

These shades are obviously different because they are mainly focused on the warm tones of the earth such as brown, orange, green, turtledove and beige but, as we will see below in a couple of minutes, each one of them has its own special quality, as with Gleni …… nothing is taken for granted!!!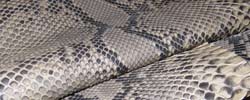 Starting with shades of brown, we propose  Natural Sand, a natural, very delicate beige with a matt finish, a classic and linear color that, after a short break, we have decided to reintroduce to our color collection as a result of numerous requests from our customers, because of its extreme naturalness and the easy way it goes with  everything.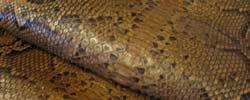 Cowboy, on the other hand, is a new shade of brown, very different from the ones already belonging to our vast range of colors, because it is a medium brown tending to hazelnut, with small black spots over the whole python surface, to create a pockmarked effect further enhancing the contrast between the bigger scales and the small scales characterizing this leather.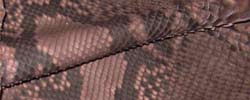 Wood reproduces the classic dark brown of  tree trunks, with lighter shadings and darker streaks to delineate the natural python design. Such plays of color are further enhanced by  sunlight creating in this way a very captivating effect on the whole matt finish.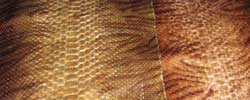 However, if you want to be daring next winter too, wearing a very chic and unusual color that is at the same time very refined, we invite you to pay attention to our Bronzed Gold, an extraordinary color combining the undisputed elegance of brown with the brightness and glamour of bronze and gold streaks. This color, created by our craftsmen in their workshops, will surely captivate all those women who want to appear beautiful and dynamic but without overdoing it with anything too flashy.
.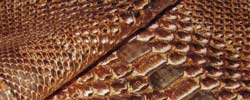 Those of our customers who, on the other hand, would like to spend the next winter  season with an accessory that brightens their look (and even their mood in the grayness of the winter period) one which makes them look beautiful and luminous no matter where they are, at work or doing everyday chores, can lose themselves in the light and glow of our "Shocking Copper", a very strong copper shade with metallic streaks everywhere and darker brush strokes  where scales are larger. The brightness of this color will continuously surprise you, capturing your heart and your soul. If you're cool with the glances of admiration and, unluckily of envy too from passers-by, and you want to reveal all your splendor this winter too, we are sure that this is the perfect tonality for you.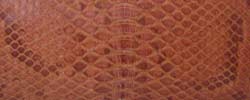 Moving on to reddish-brown tones, we can propose the new color "brick red", so called because it reminds us the typical terracotta red of the traditional Italian brick. This tonality too is primarily intended for the winter season but can be just as current in any season, thanks to its versatility and wearability.
---
Lovers of grey, however, shouldn't despair because Gleni has kept their tastes in mind too, proposing two very interesting variants of grey to set yourselves off next fall-winter season 2011-2012.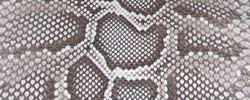 The first variant is called "Ice" and at first sight it could be mistaken for our historical matt Roccia. In fact the python design is almost identical  and even the finish is matt, but the color "Ice" tends to assume a more intense grey nuance that evokes the image of ice in our mind, from which the color itself takes the name.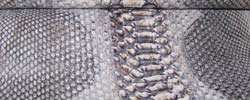 The second variant, on the other hand, "Crazy Grey", offers a very different image of grey, with obvious white streaks and small hazelnut brush strokes where the scales are larger. And it's actually around the bigger scales that we notice a shiny effect contrasting with the matt grey finish of the rest of leather, creating in this way a very refined optical effect.
---
For the coming of the fall-winter 2011-2012 season, we have also adopted another new variant of python, Velvet python. It is so named because, unlike the classic python structure of big scales alternating with smaller scales, soft but versatile to the touch, first of all, Velvet python shows an homogeneous color, without the natural patterned nuances of python, and this leather both in feel and in appearance is like soft velvet.
Being a very elegant and subtle leather, the range of colors available is mainly oriented towards classic and restrained shades such as: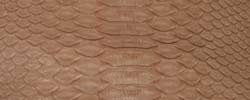 Turtledove: very elegant and sober beige-brown that, thanks to its neutrality, goes perfectly with any other color;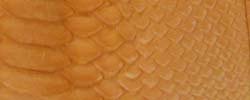 Apricot: a delicate orange shade that recalls the characteristic color of the apricot skin when this fruit is ripe. This is the reason why apricot too, like many other shades  described above, can be considered the perfect tonality for any season, suitable to wear both in winter to brighten a dark dress and in summer, worn with other fresh colors such as white or beige;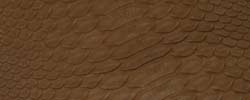 Military green: should be considered a specifically autumnal color. Military green is addressed to all lovers of taste and refinement who, however, go beyond the choice of  classic black or brown for their accessories, and who want to live the next cold season wrapped in color but without going over the top;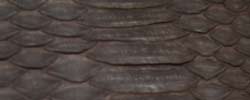 Lead: a very intense dark grey further underlining the velvety aspect of this type of python, conferring prestige and luxury on any accessory you wish to have made in this leather;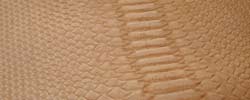 Biscuit: is named for the typical colors of the plain Italian cookies that most of us start the day with to accompany our coffee at breakfast. This shade too, like many others, although it has been inserted here among the variants of colors for the next fall-winter 2011-2012, being very natural and delicate, is also perfect to wear on warm summer afternoons, perhaps used on a beautiful roomy tote bag. What do you think of it?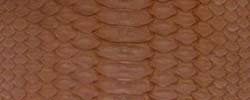 Noisette: a very elegant and refined light brown , an homogeneous and intriguing tonality making you look glamorous and womanly and enhancing your look with class;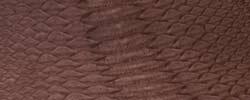 Violet-brown: it is a very intense and unusual color, a dark brown with eggplant violet shadings, a contrast made more evident if the leather is exposed to sunlight. Everything is then elegantly enriched by the velvety finish that characterizes this type of python.
Classic Trapper and Indio python colors are obviously still available because these tonalities never go out of fashion, continuing to retain their modern aspect in their classicality. If you are curious to see how these fashionable new colors go with the style and the elegant line of our luxury python handbag models, click here and let yourself be lulled in this ocean of overwhelmingly beautiful colors!
Our company, as you well know, specializes primarily in the making and sale of the finished product but, if you are a wholesaler attracted by the types of leather we deal with or by the new python colors shown here above, and you are just interested in buying our leathers directly, you can contact us over the phone or send us an e-mail and we will be very glad to meet your requirements.
So as to always keep up to date and not to be caught unprepared, we have already predisposed the wide range of colors that will be the protagonists of the next spring-summer 2012, according to the new trends shown at the many leather fairs of international importance that we attend every year: if you want to have a sneak preview of the next color trends, we invite you to enter the following page of our website: